Your New Year's Resolution: How to Reset Yourself into 2020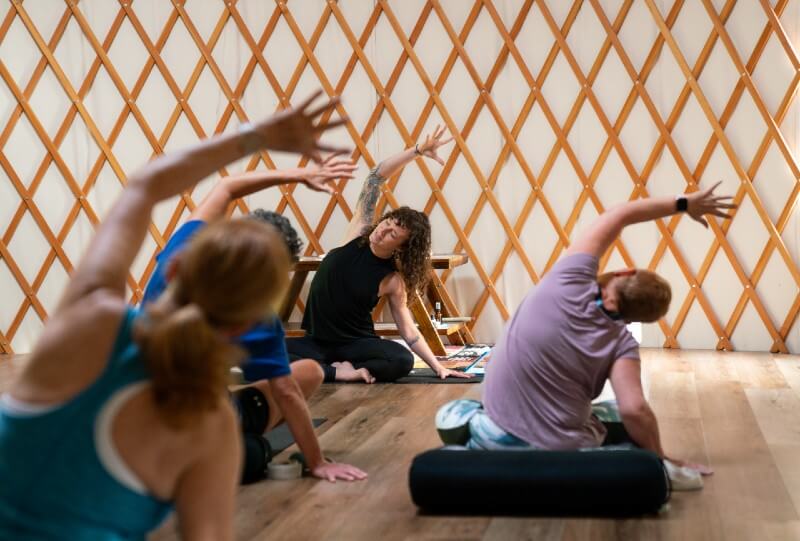 The new year's resolution momentum is tangible. We are fully immersed in the holiday season. The bustle is ever apparent, and we are counting down to a brand new year and a brand new decade.
It's almost here. 2020.
The new year offers us a new slate, a new start, a reset button every 365 days as we set new intentions, new year's resolutions and new goals. The new year offers an invitation to reflect on the past year and to clarify for ourselves what means the most, what we should invite into our lives, and upon what to focus for the upcoming year.
If you feel curious, as an experiment, what happens when you consciously call in the qualities of the new year's resolutions you seek, rather than just being along for the ride? Whether you seek more energy, more adventure, more rest or more spice in 2020, may you take the time to name it, focus on it, water it, and watch it grow.
Here are a few tips on how to make the new year's resolution changes you seek.
Reset No. 1: Define your new year's resolution intentions and how you want to feel
In the spirit of the Skyterra approach to life and living, how do you want to feel in 2020? Rather than listing the objects or achievements that you wish to attain, why not get clear on what is deeper.
Explore the feeling that you seek. Once we are clear on what we wish to feel, the roadmap often presents itself with many options as to how to journey in that direction.
2020 can be the year that you decide to feel more calm, more relaxed and to expand your capacity to enjoy your life more fully and completely. If you feel a big tug to make some shifts to allow space for you to be more available for your life and for those you love and cherish, 2020 can be a time to consciously invite this. Or to invite whatever you desire.
Reset No. 2: Practice mindfulness
Mindfulness is an age-old tool that humans have turned to when we wish to cultivate more equanimity in our lives. Try to begin each day with some mindfulness, gentle stretching and breath work, and notice what happens in your life. With mindfulness, mornings can transform into mini retreats at home before the momentum of your day begins to build.
Every day at Skyterra we gather in our yoga yurt for our signature Connect class. This 30 minute class invites guests to connect with the body and the breath through various stretches, movements and breath work practices. We also offer virtual Connect classes on Skyterra at Home for free; these may be a great place to start if you'd like to incorporate mindfulness.
So many Skyterra guests return home with their Connect experiences fresh, ready to begin to practice mini Connect classes in the mornings before their day. If you choose to start your day by Connect-ing, you will likely notice that every day is different, and the ways that you show up on your mat will reflect this.
Reset No. 3: You say you want to try some yoga?
When beginning to practice yoga at home, follow what feels good and what you have loved most about yoga. If you haven't practiced yoga before, start with five minutes of gentle stretching and breathing in the mornings. You can also find several yoga videos here on Skyterra at Home.
Place your yoga mat next to your bed so your feet first touch down on your mat — or last touch your mat in the evening — as a reminder of your practice. Before long, your practice just becomes innate and second nature, especially if your goal is just a few minutes per day. Often people find that if they commit to five minutes, they end up doing 10 or 15 minutes.
Once you have established the time of day that feels best as well as your goal for the duration of your practice, set up where your home practice will take place.
Make sure you have the props and support that you need. The yoga essentials include a durable and reliable yoga mat, two blocks, a large pillow or bolster, and a blanket. Also keeping a strap or belt, therapy balls, sand bags and other yoga tools can be a lovely and cozy addition to a yoga practice, although by no means necessary.
All of these props serve as a way for you to very literally support your growing practice. Start where you are and with what you have. At Skyterra we love to nudge students in the direction of experiencing props as a metaphor of their own willingness to receive support, not only in their yoga practice, but also in their lives!
As you're moving through stretches and postures, some days might call for one long restorative posture like legs up the wall while other days may call for vigorous sun salutations and an invigorating breath practice like breath of fire. This is where the magic happens.
You have the opportunity to customize your practice for your body each day, according to how you are feeling and what you need.
Some Skyterra guest's favorites are legs up the wall, reclined cobbler pose and restorative twists. Again, check out the vast library of classes and resources on Skyterra At Home to support your wellness journey. Your home practice can literally be as simple as pressing play and following along.
Reset No. 4: Shift your day in as few as five minutes
Really it can be as simple as five minutes. We tend to overemphasize how busy we are, but the reality is that taking just five to 20 minutes in the morning or evening to connect with your body and your breath can drastically shift your days, your weeks and your life. Truly!
What you focus on grows, and as you make changes to become more aware and attentive to your inner world, your body and your feelings, the impact trickles into all aspects of your life.
There can be a tendency to spend time in the morning zoning out, pressing snooze or scrolling through social media. A little shift in perspective and priority can take this time and use it as a way to deeply enrich and enhance your day-to-day life.
Reset No. 5: Create motivational momentum and clarity toward your resolutions
If you feel inspired, take some time to create some motivational momentum by getting really clear on what it is that you want to feel more of in your life in 2020 and write it down with as much detail as possible.
If writing isn't your cup of tea, then find some way to express and convey your intentions whether it's through a collage, a voice memo or even through movement or dance. No matter what, set your goals clearly and with as much detail as possible.
Happy New Year and new decade. May you consciously call in the qualities that you seek during 2020!