You can use other vegetables with this pickling recipe such as red onion, thinly sliced beets, or thinly sliced carrots. Pickled vegetables make a great snack to satisfy those salty-and-crunchy cravings.
Ingredients
Pickling Liquid:
1 quart White distilled vinegar
4 quarts Water
¼ cup Honey, local
¼ cup Kosher salt
10 each Black Peppercorns, whole
Vegetables:
¼ cup Dill, fresh, coarsely chopped
4 each Cucumbers, large, rinsed, thin sliced
4 each Ball Jars, quart sized (mason jars)
Directions
In a large pot, bring all ingredients to a boil.

Once boiled, turn off the heat and allow the pickling liquid to come to room temperature.

Place one sliced cucumber and 1 T. of dill in each Ball Jar.

Pour the room temperature pickling liquid evenly among each Ball Jar (over the cucumbers).

Seal cucumbers with lid of jar and rest/cool in the refrigerator for at least 24 hours prior to eating. 

Once open, the pickles will last 2-3 weeks in the refrigerator.

 

If left unsealed, the pickles will stay fresh for 2-3 months.

 

Each jar should yield 10-12 servings.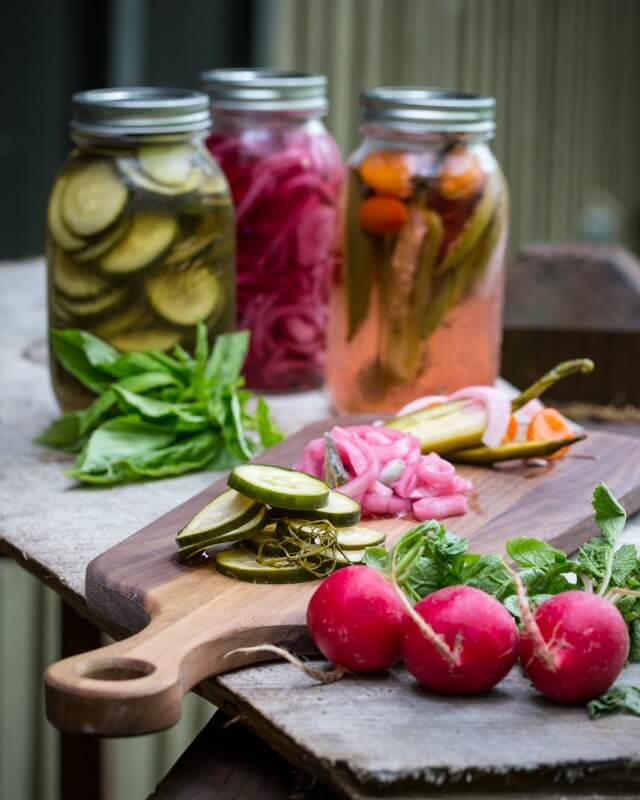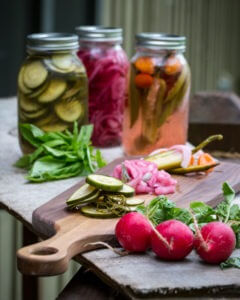 Servings:  10
Serving Size:  5-6 pickles
Nutrition Information:  gluten-free, dairy free, nut free
Calories:  10
Carbohydrates: 2 gm
Protein:  0 gm
Fat:  0 gm
Fiber:  0 gm
Sodium:  480 mg
Embrace Healthy Eating!
This recipe is courtesy of the culinary team at Skyterra Wellness Retreat, led by Executive Chef Michael Vess and Registered Dietitian Lindsey Ford. Guests enjoy our chef-prepared, dietitian-approved meals as part of our all-inclusive feel-good wellness program. Learn more or follow along with us on Facebook or Instagram.