Cauliflower is a great substitute for starchier potatoes, and it packs more nutrition in every bite.  Pair with grilled salmon and green beans for a delicious meal.
Servings: 4
Skill Level: Beginner
Total Time: 20 minutes
Ingredients:
1 each Cauliflower head, large, leaves and core removed, use florets
1/3 cup Milk of choice (local milk if possible)
1 ½ T. Grass-fed butter
¼ tsp. White pepper
¼ tsp. – ½ tsp. Kosher salt (season to taste)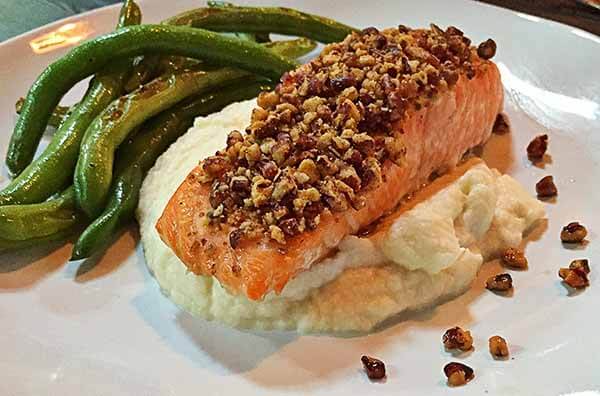 Preparation:
1. Preheat ovento 350 degrees.
2. Bring a large pot filled with salted water to a boil (use about ¼ tsp. of salt).
3. Boil cauliflower florets for 7-8 minutes. A fork should slightly go through the stems (not completely tender).
4. Remove cauliflower from water and place on non-stick baking sheet.
5. Bake cauliflower in oven for 5 minutes to help dry out the florets.
6. Once done, add cauliflower to food processor.
7. Heat milk and butter in the microwave for 30-45 seconds (medium power) until butter has melted.
8. Add liquid to cauliflower followed by salt and white pepper.
9. Puree cauliflower until smooth.
Enjoy!!
Servings: 4
Serving Size: ½ cup cooked
Nutrition Information: gluten-free, potentially nut free
Calories: 90
Carbohydrates: 11 gms
Protein: 4 gms
Fat: 5 gms
Fiber: 4 gms
Sodium: 310 mg
Embrace Healthy Eating!
This recipe is courtesy of the culinary team at Skyterra Wellness Retreat, led by Executive Chef Michael Vess and Registered Dietitian Lindsey Ford. Guests enjoy our chef-prepared, dietitian-approved meals as part of our all-inclusive feel-good wellness program. Learn more or follow along with us on Facebook or Instagram.