Our playground
Our Wellness retreat is surrounded by the Blue Ridge Mountains, the Pisgah National Forest, and the French Broad River. The Great Smokies and the lively town of Asheville are nearby. Skyterra integrates the uniqueness of location, culture, history and traditions. We are uniquely unrivaled because of the range of accessible experiences: hiking, kayaking, whitewater rafting, waterfall hunting, fishing, cycling, and more. Asheville, Brevard and the surrounding mountains differentiate us from our competitors and will surpass your expectations. The area's growing reputation and prestige and the skill with which Skyterra's team integrates this outdoor wonderland into your fitness program make this a dream destination.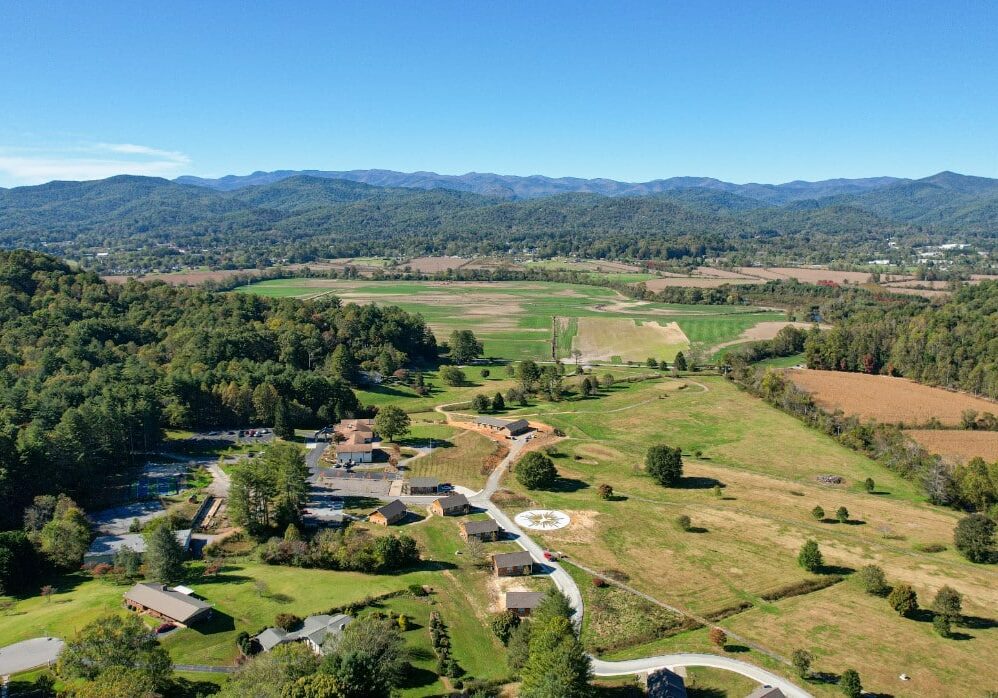 Le Parc
Located on 155 acres, nestled in among the breathtaking Western North Carolina Mountains, the property includes nine miles of walking trails that crisscross streams and lead to a waterfall. Skyterra offers lodges for each guest, a self-contained spa just for guests, and a main building. The main building houses classrooms, fitness spaces, indoor and outdoor yoga rooms, a kitchen, teaching kitchen, and a dining room with expansive mountain views. An indoor pool with hot tub and sauna were completed in 2022.
The campus blends seamlessly with the natural beauty of the majestic mountains. The lucky ones find a way to return to the mountains again and again. However, the wise ones never leave. Robert Frost penned one of his most beloved poems "The Road Not Taken" where he concluded his work with these immortal words… "Two roads diverged in a wood and I- I took the one less traveled by, and that has made all the difference."
The Blue Ridge Mountains & Brevard
100s of waterfalls. 100s of memories await.
Just minutes from Skyterra, the sidewalks of downtown Brevard come to life with restaurants, shops, and galleries. In addition to its rich mountain heritage, Brevard is a thriving music and arts center. Brevard is alive with vibrant arts, programs, concerts, and exhibits, perhaps none more notable than the Brevard Music Festival. More than eighty performances occur each year during the Brevard Music Festival, courtesy of the world-renowned Brevard Music Center. In addition, the Porter Music Center for Performing Arts at Brevard College has quickly earned a reputation as one of the finest performance halls in the South. Some of the world's most acclaimed musical talents perform in a pristine and intimate acoustic setting.
Asheville Named a best city by National Geographic
You know you are in a great town when National Geographic calls you a best city
Coolest city in the US!
Just this year, Asheville is among Condé Nast's six best beer cities in America, Frommer's best places to go and Huffington Post's 13 best food destinations. Matador Network, a social nexus for travelers, calls it the "coolest town in the U.S."
Asheville named 12th best place to live in the US
Read about the Livability.com survey that ranked Asheville as one of the best towns in the US.
Asheville, NC
A unique town. A remarkable place.
Nestled in the Blue Ridge Mountains and The Great Smokey Mountains just 30 miles from Brevard, the Asheville area attracts newcomers for its astounding quality of life, low crime rate and welcoming entrepreneurial environment. Known for its culinary delights, history, architecture, natural settings and the mecca for adventure lovers, Asheville has something for everyone. There's more to life than the climb. There's the view. Asheville provides open space as there is something unexpected around every bend. Immersion in Asheville's unmistakable mountain vibe will leave one unreservedly refreshed. Experiences ranging from the unique and memorable "foodtopia" (food scene) to the vibrant beer scene- one in which boasts more breweries per capita than any other U.S. city, Asheville is thriving with food adventure and distinctive culinary experiences. Asheville is the home to over seventeen local tailgate markets, all selling farm-fresh produce and artisan goods. With eight national and state parks located within a short drive, Asheville is the gateway to a remarkable outdoor getaway. Explorers can enjoy the quiet serenity of a walk through old-growth magical forests or marvel at the abundance of wildlife adventures that vary from peak to peak. For a more thrilling experience, adventure savvy seekers can hunt for one of the regions 200+ waterfalls.