Open-Face Scottish Salmon BLT


Scottish salmon is exceptionally high in omega-3 fatty acids. Omega-3 fatty acids are essential to get from our food as our bodies cannot produce them on our own. Paired with crispy bacon, this makes a delicious brunch dish.
Servings: 4
Skill Level: Beginner
Total Time: 45 minutes
Ingredients: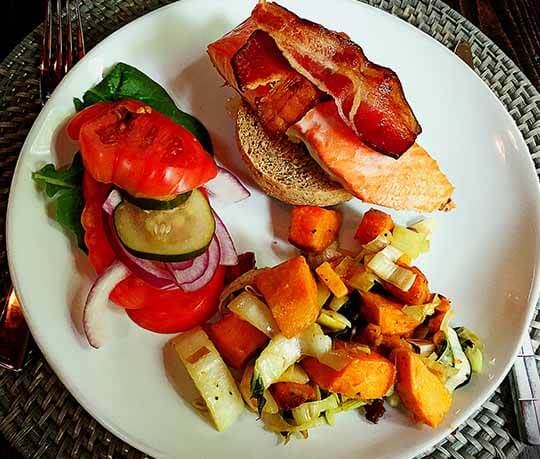 4 slices Bacon, high quality (local if possible)
4, 4 oz. filets Scottish salmon or high quality salmon (wild caught is great)
1 each Heirloom tomato, sliced into 4 rounds
1⁄2 each Red onion, sliced into thin strips or rings
4 each Bibb lettuce leaves, small to medium
2 each English Muffins, halved, toasted (local bakery if possible)
Preparation:
1. Preheat oven to 350 degrees.
2. Place bacon on sheet pan and bake until desired doneness, about 15 – 20 minutes. Place on paper towels to soak up extra grease.
3. Using the same sheet pan, place salmon (skin side down) on top of bacon grease.
4. Bake in oven at 350 degrees for 12-15 minutes. Turn oven off and allow the salmon to carry over cook.
5. While the salmon is baking, toast english muffins as well as prepping the vegetables.
6. Top each toasted english muffin half with 4 oz. scottish salmon, 1 slice of bacon (cut in 1⁄2) and place vegetables on the side.
7. Serve with Lusky Monk mustard to any condiment of choice.
Servings: 4
Serving Size: 6 oz. burger + toppings
Nutrition Information: contains gluten, dairy free, nut free (easily made gluten-free
Calories: 450
Carbohydrates: 25 gms
Protein: 41 gms
Fat: 20 gms
Fiber: 4 gms
Sodium: 650 mg