Recipe: Breakfast Parfait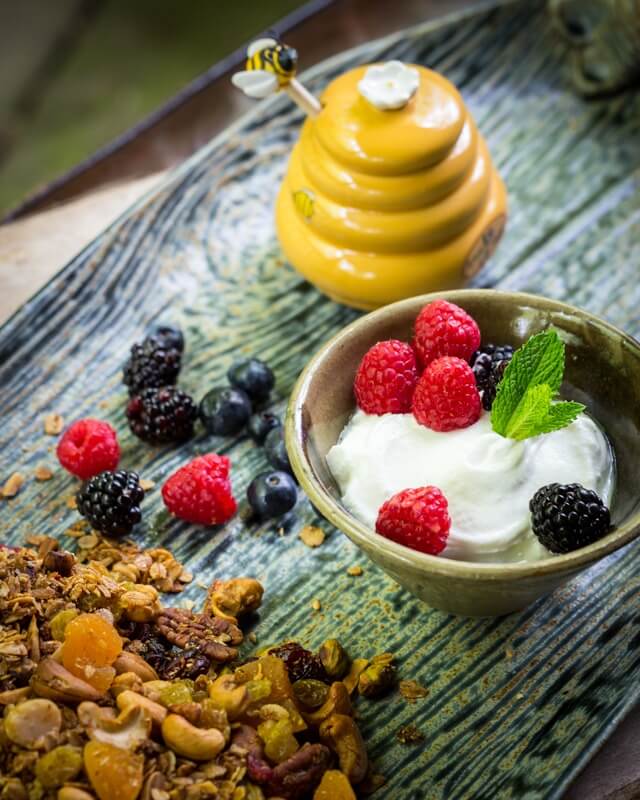 Servings: 1
Skill Level: Beginner
Total Time: 5 minutes
Ingredients:
¼ cup Greek yogurt, plain
1 tsp. Honey, local
1 oz. Skyterra Nuttola (recipe)
2 T. or more Blueberries, fresh
Preparation:
1. Prepare Skyterra Nuttola – this takes at least 30 minutes and can be stored or frozen if the recipe is doubled or tripled.
2. In a small bowl or glass, add 2 T. of yogurt followed by 1 T. of berries and 1 T. of nuttola.
3. Repeat with 2 T. yogurt, 1 T. of berries and 1 T. of nuttola.
4. Top with 1 tsp. of local honey. Enjoy!
Nutrition Tip: Feel free to boost yogurt to ½ cup if additional protein is needed.
Servings: 1
Serving Size: 1 composed parfait
Nutrition Information: gluten-free, contains dairy and nuts
Calories: 300
Carbohydrates: 32 gms
Protein: 8 gms
Fat: 17 gms
Fiber: 4 gms
Sodium: 65 mg
Embrace Healthy Eating!
This recipe is courtesy of the culinary team at Skyterra Wellness Retreat, led by Executive Chef Michael Vess and Registered Dietitian Lindsey Ford. Guests enjoy our chef-prepared, dietitian-approved meals as part of our all-inclusive feel-good wellness program. Learn more or follow along with us on Facebook or Instagram.