Servings:  4
Skill Level:  Beginner
Total Time:  75 minutes
Ingredients:
4, 5 oz. portions          Shrimp, jumbo, deveined, skewered
¼ cup                           Barbeque Sauce, house made or lower sugar brand
12 cups                        Arugula or greens of choice
1 pint                           Blackberries, rinsed
1 pint                           Raspberries, rinsed
2 each                         Golden beets, roasted
½ cup                           Cucumber, rinsed, halved
¼ cup                           Pine nuts, toasted
½ cup                           Goat cheese, local if possible, crumbled
4 servings                    Cilantro Vinaigrette or Vinaigrette of choice
Preparation:
Roast beets at 350 degrees for ~60 minutes. Set aside.  Cool for at least 20 minutes.
Prepare Vinaigrette of choice and set aside.
Prepare Barbeque sauce if desired and set aside.
Skewer shrimp on pre-soaked wooden skewers (soak in hot water).
Lightly oil outdoor grill with grapseed oil then bring to high heat.
Place shrimp skewers on grill and cook on both sides ~2-3 minutes.
Once done, place on plate and lightly toss or coat with barbeque sauce. The heat from the shrimp should heat up the barbeque sauce (feel free to lightly coat shrimp with sauce while on the grill – avoid extreme dripping into the grill).
Place greens in large mixing bowl and toss with Vinaigrette of choice.
To serve, add greens to large salad bowl then top with golden beets, cucumber, mixed berries, toasted pine nuts.
Top with 1 skewer and 2 T. of goat cheese. Enjoy!
Servings:  4
Serving Size:  5 oz. shrimp skewer + composed salad
Nutrition Information:  gluten-free, contains dairy and nuts
Calories:  425
Carbohydrates: 40 g
Protein:  29 g
Fat:  18 g
Fiber:  7 g
Sodium:  980 mg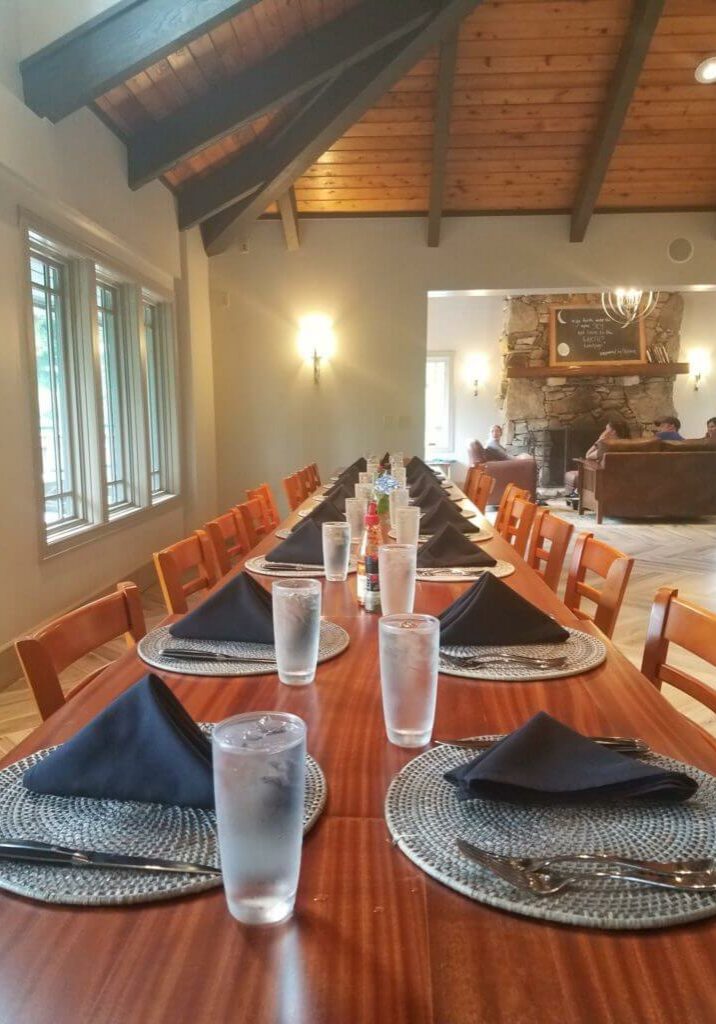 Embrace Healthy Eating!
This recipe is courtesy of the culinary team at Skyterra Wellness Retreat, led by Executive Chef Michael Vess and Registered Dietitian Lindsey Ford. Guests enjoy our chef-prepared, dietitian-approved meals as part of our all-inclusive feel-good wellness program. Learn more or follow along with us on Facebook or Instagram.