The guests at Skyterra loved this shrimp version of a po boy from Chef Ken. Pair it with slaw or baked sweet potatoes for yummy lunch or dinner.
Servings: 4 Skill
Level: Intermediate
Total Time: 60 minutes
Ingredients:
1 lb. Jumbo Carolina Shrimp, 16/20, cleaned, peeled, deveined, tails left on
1 T. Extra virgin olive oil
¼ cup Barbeque sauce, low sugar and vinegar based variety (e.g., Stubbs)
2 each French baguettes, small (half baguettes), sliced in half
2 T. Duke's Mayonnaise
¼ each Green cabbage, cored removed, finely shredded and diced (may have some leftover)
½ each Red onion, small, diced
1 each Heirloom tomato, sliced in rounds, halved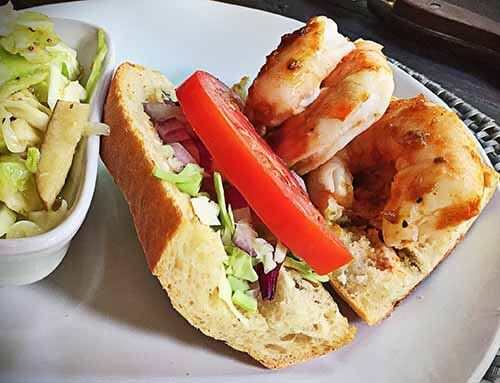 Preparation:
1. Preheat oven to 350 degrees. Pour olive oil onto baking sheet and place prepared shrimp on top of the olive oil.
2. Evenly distribute the barbeque sauce on top of the shrimps.
3. Bake shrimp in oven for 8-10 minutes then set aside. The shrimp should curl up like the letter C, but not making the letter O. Slightly pink in color.
4. While the shrimp is baking, dice and prepare vegetables. Set aside until ready to assemble sandwich.
5. To prepare the sandwich, cut the baguettes in half (2 small baguettes should make 4, 4- 5 inch sandwiches). Cut the sandwich sized portions in half, cutting along the side of the baguette in order to create and open-face sandwich.
6. Scoop out the bready inside of each sandwich in order to create room for the vegetables and shrimp.
7. Spread ½ T. of mayonnaise onto each open face sandwich. Sprinkle in even amounts of cabbage and red onion followed by a slice of tomato.
8. The shrimp should be ready to handle at this point. Remove tail and add 3-4 shrimp per sandwich (on top or along side of the tomato).
Enjoy!!
Servings: 4 Serving Size: Composed Po Boy Nutrition
Information: Nut free, dairy free, contains gluten
Calories: 375
Carbohydrates: 42 gms
Protein: 23 gms
Fat: 12 gms
Fiber: 5 gms
Sodium: 1,100 mg