Try Skyterra Chef Ken Hahn's delicious late summer, early autumn soup that is healthy and filling.
Servings: 16 Skill
Level: 30 minutes
Ingredients:
1 ½ T. Coconut oil
1 lb. Carrots, medium diced
1 each Vidalia onion, medium diced
1 each Shallot, medium diced
1/2 tsp. Kosher salt
¼ tsp. White pepper
2 cans Coconut milk
2 quarts Almond milk, unsweetened
1 each Bay leaf
1 each Cinnamon stick, large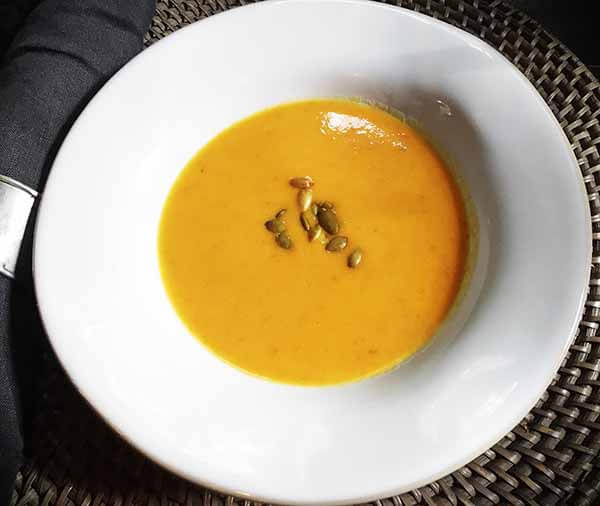 Preparation:
1. Bring large pot to medium heat. Add coconut oil followed by carrots, onion, shallot and salt/pepper.
2. Cook vegetables until soft, about 5-8 minutes.
3. Add coconut milk, almond milk, cinnamon stick and bay leaf.
4. Bring liquid to a boil then to a small simmer and cook until the carrot are very soft (test with a fork), about 10-12 minutes
5. Once carrots are soft, remove cinnamon stick.
6. Puree soup with immersion blender until smooth. Season with extra salt and pepper if desired.
7. Soup should yield 2 quarts.
Enjoy!
Servings: 16
Serving Size: 6 oz.
Nutrition Information: gluten-free, nut free, dairy free
Calories: 160
Carbohydrates: 7 gms
Protein: 2 gms
Fat: 14 gms
Fiber: 2 gms
Sodium: 150 mg