Summer Vegetable, Quinoa, & Cheddar Frittata


This delicious frittata makes a protein-packed breakfast or brunch. Serve it over fresh greens and tomatoes with warm bacon vinaigrette for a delicious complete meal.
Servings: 8
Skill Level: Beginner
Total Time: 75 minutes
Ingredients:
1 ½ cups Quinoa, cooked
2 T Extra virgin olive oil
1 each Red onion, small diced
2 each Zucchini, rinsed, small diced
1 each Yellow squash, rinsed, small diced
½ tsp Kosher salt
¼ tsp White pepper, ground
2-4 T Basil, chopped
12 each Eggs, local
½ cup Whole milk, local if possible
¾ cup Cheddar cheese, shredded, local cheese if possible (high quality)
Preparation: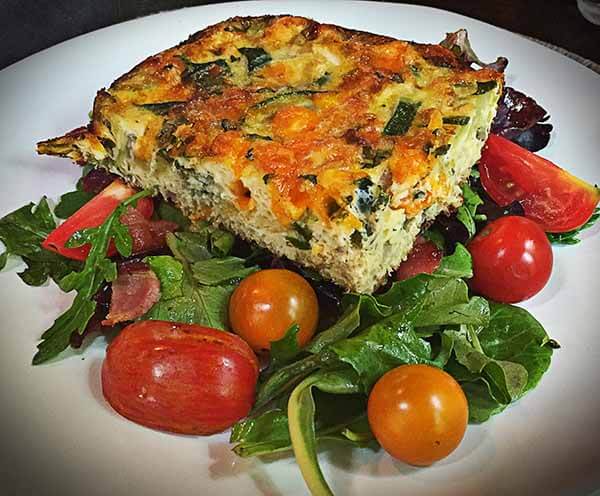 1. Preheat oven to 350 degrees.
2. Cook quinoa according to package and set aside.
3. Preheat a large saute pan to medium heat. Add extra virgin olive oil followed by the red
onion.
4. Cook onion for 3-4 minutes then add the zucchini and summer squash. Add the salt and
pepper and cook for another 5-10 minutes until vegetables are soft and cooked through.
5. In a medium mixing bowl, add eggs and milk and whisk until combined.
6. Spray a 13 x 9 glass casserole pan with oil.
7. Evenly distribute the quinoa, vegetables and basil at the bottom of the casserole pan.
8. Pour the egg/milk mixture on top of vegetables and quinoa. Top with cheddar cheese.
9. Bake frittata in oven for 35-40 minutes or until the center has set (doesn't jiggle).
10. Allow the frittata to rest for at least 15-20 minutes prior to slicing. You can allow it to
rest in the oven (turn off heat). Slice the frittata into 8 portions.
You can also serve on a bed of spinach with warm bacon vinaigrette.
Servings: 8
Serving Size: square/rectangular piece roughly 4 x 4 inches
Nutrition Information: gluten-free, nut free
Calories: 250
Carbohydrates: 13 gms
Protein: 14 gms
Fat: 15 gms
Fiber: 2 gms
Sodium: 300 mg
Embrace Healthy Eating!
This recipe is courtesy of the culinary team at Skyterra Wellness Retreat, led by Executive Chef Michael Vess and Registered Dietitian Lindsey Ford. Guests enjoy our chef-prepared, dietitian-approved meals as part of our all-inclusive feel-good wellness program. Learn more or follow along with us on Facebook or Instagram.