This tasty variation on Caesar salad dressing uses silken tofu in place of eggs.
Servings:  8
Skill Level:  Beginner
Total Time:  45 minutes
Ingredients:
1/3 cup Almonds, slivered
3 cloves Garlic, peeled, crushed
¾ cup Silken tofu
¼ cup Extra virgin olive oil
3 T  Fresh lemon juice
1 T  Capers
4 tsp  Caper brine
1 tsp Sugar
½ tsp Mustard powder
¼ tsp Kosher salt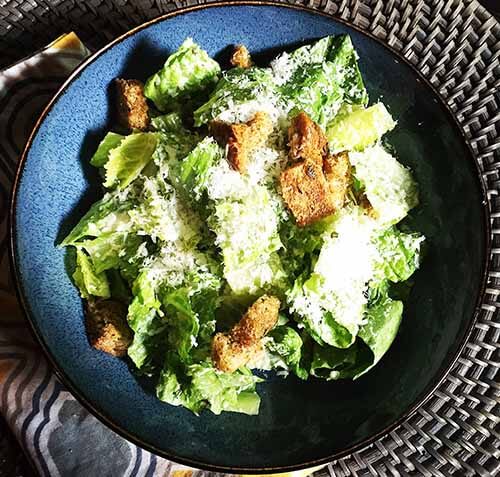 Preparation:
In food processor, pulse slivered almonds until crumbly.
Empty ground almonds into an airtight container that will be used to store the finished dressing.
Blend the garlic, tofu and olive oil in food processor until creamy.
Add the lemon juice, capers, caper brine, sugar, mustard powder and salt and pulse until blended.
Adjust the lemon juice or salt to taste.
Put dressing into container with the ground almonds and whisk to combine.
Allow the dressing to chill for at least 30 minutes and ideally up to 1 ½ hours before serving.
Servings:  8
Serving Size:   ~1 ½  T
Nutrition Information:  contains almonds, gluten-free, dairy free
Calories:  100
Carbohydrates: 2 g
Protein:  2 g
Fat:  10 g
Fiber:  1 g
Sodium:  100 mg