What Is an Outdoor Fitness Retreat (and Why You Need One ASAP)


Imagine this:
The soft warble of an eastern meadowlark plays at the edges of your mind as you dream of swimming across a secluded lake nestled in a valley between rolling green ridges surrounded by deep blue mountains. The sun streams through the open window, tickling your eyes, urging you awake. You surface slowly. Cool air caresses your cheek, but you burrow deeper under the feather duvet. A little more snuggling is in order. You want more of that dream. More of the mountains and the lake. More of the peaceful feeling of floating weightless under the blue sky in the welcoming cradle of a mountain landscape.
You're not quite ready to give up bed for another day of adulting. You know your email inbox is full; the project coordinator on your last assignment is probably going to change everything again; your teenager daughter wants to quit the cross country team to spend more time hanging out with friends. Whatever that's code for.
The duvet seems way better than all that.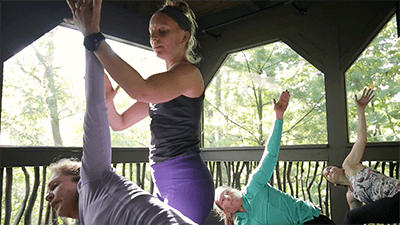 Then something triggers your mind: you never sleep with the window open this time of year. The air should not be that cool, either. And that bird call—not one you recognize. Your eyes pop open. Through the open window you see a small meadow sloping downwards, dotted with white and pink clover, edged by thick rhododendron giving way to a dense forest where smallish flowering Dogwoods share space with Red Oak, Maple, and the occasional white-barked Birch.
You smile to yourself. It's not a dream, after all. That lake? You actually swam there yesterday—after you paddled all the way out to the middle under your own steam. You congratulate yourself on the wise choice you made several months before. You remember the moment exactly. Staring at a picture on your laptop that spoke do something deep inside your soul. You took a deep breath, clicked the registration button in the corner, and did it: you booked a two-week outdoor fitness retreat in the Blue Ridge Mountains of North Carolina.
You're a smart cookie.
Outdoor Fitness Retreats, Spas, and The Healing Power of Nature
The concept of the outdoor fitness retreat is nothing new, and the tradition of getting away from the hustle and bustle of adult life predates even the industrialized world. Think of the Greek and Roman aristocracy withdrawing to the comfort of their countryside villas in ancient times, Buddhist temples located past the edge of beyond in The Middle Kingdom, Hindu gurus practicing yoga in rural ashrams in India, and of course, Tibetan monks seeking enlightenment high in the Himalayas. The practice is not limited to religious devotees or the moneyed aristocracy, either—far from it. Think of your typical American heading up to a mountain cabin for a long weekend, going on week-long fishing trips at the lake, or hitting the beach for two weeks every summer.
The idea of combining a get-away-from-it-all sojourn with an intentional approach to health and wellness also goes back centuries. In Europe, doctors and healers have long advised their patients to "take the waters" and spend time in the plentiful naturally occurring hot mineral springs dotted across the continent. The word "spa" itself comes from two sources: a city in Belgium—called Spa—famous for its healing baths, and the Latin phrase "salus per aqua" or "health through water."[1]
In the modern world, the spa concept has transformed into a robust industry, especially here in the United States, where there are over 10,000 spas of various types currently open for business. In Germany, however, outdoor fitness retreats get the most official clout. German insurance companies have been covering the costs for retreats for over fifty years, which they say account for significant drops in sick days, prescription drug use, and "long-term physical, mental, spiritual, and emotional improvements."[2]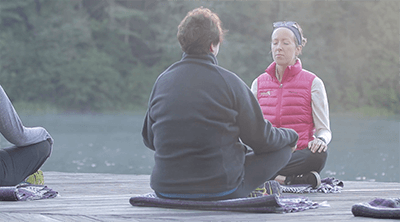 Science backs up the German insurers. After all, it stands to reason they'd vet their investment responsibly beforehand. Studies on the benefits of outdoor activities—from adventure sports, to wilderness backpacking and mountaineering, to basic hiking—have been the subject of scores of studies over the past forty years.[3] When combined with physical activity, researchers confirm spending time in the true outdoors reduces stress, anxiety, and depression.[4] It also improves sleep, self-esteem, and a fosters a positive sense of well-being. Most research has been conducted on individuals with serious challenges, such as combat veterans suffering from combat PTSD and troubled adolescents with primary behavioral diagnoses, but another strain of research has shown that something as simple as taking a walk in the woods—known as "forest bathing" or "Shinrin-Yoku" can likewise improve overall health and happiness.
In the United States, there are over 10,000 spas currently offering health options for consumers, and the number of outdoor fitness retreats is growing every year. They're known by all sorts of names: boot camp retreats, fitness camps, and fit camps for adults. Packages are sold as fitness holidays, fitness vacations. People who know about these options tend to get online and search terms like those: fit camp, exercise camp, and variations on those themes.
But if you're thinking about a fitness, health and wellness oriented vacation, ask yourself this: do you really want a camp and all it implies, as in camp food, camp accommodations, and bare-bones amenities, or do you want to sleep comfortably, eat great food, and receive top-notch instruction all in a luxury environment?
That's where Skyterra comes in.
A Spiritual, Physical, and Emotional Reset
Imagination time again:
Go back to that comfortable bed with the soul-nourishing view of a beautiful meadow and the breathtaking blue ridge mountains in the distance. You sit up on the side of the bed and breath in the fresh, cool mountain air. Your belly rumbles as you stretch your arms over head—they're a bit sore from your paddle and swim the previous afternoon, but you know as soon as you get to your after breakfast yoga class, you'll work out the old blood, work in the new, and they'll feel better than ever. Your belly rumbles again, and you throw on your comfortable clothes, eager to get to breakfast.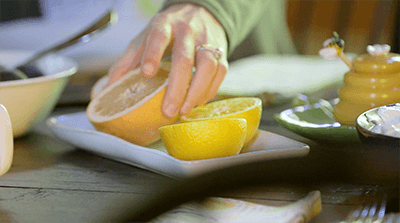 Fresh fruit, yogurt, granola and green tea await you. Your mouth waters in anticipation: the food here is excellent. Every meal is locally sourced, healthy, and delicious. You can't wait to try some of the creative recipes when you get back home.
You think about your activity options for the day. After yoga, you might go for a bike ride, try one of those "Forest-Bathing" nature walks you've heard so much about, do a meditation session, take a weight training class, or just maybe—go for another long paddle and swim.
You smile to yourself. Yup, you're one smart cookie.
Booking this amazing Health and Wellness retreat at Skyterra is all the proof you need.
Footnotes:
[1] "Wonder Water: The Value of Water" https://www.eurogeosurveys.org/wp-content/uploads/2016/03/Water-Book-Layout_full-low-double-no-print.pdf
[2] Hoag, Matthew. "Efficacy of Wilderness Therapy for Young Adults: A First Look." https://www.tandfonline.com/doi/abs/10.1080/0886571X.2013.852452
[3] Vella, Elizabeth Jane. "Participation in Outdoor Recreation Program Predicts Improved Psychosocial Well-Being Among Veterans With Post-Traumatic Stress Disorder: A Pilot Study" https://publications.amsus.org/doi/pdf/10.7205/MILMED-D-12-00308