3 Healthy Thanksgiving Recipes from the Skyterra Culinary Team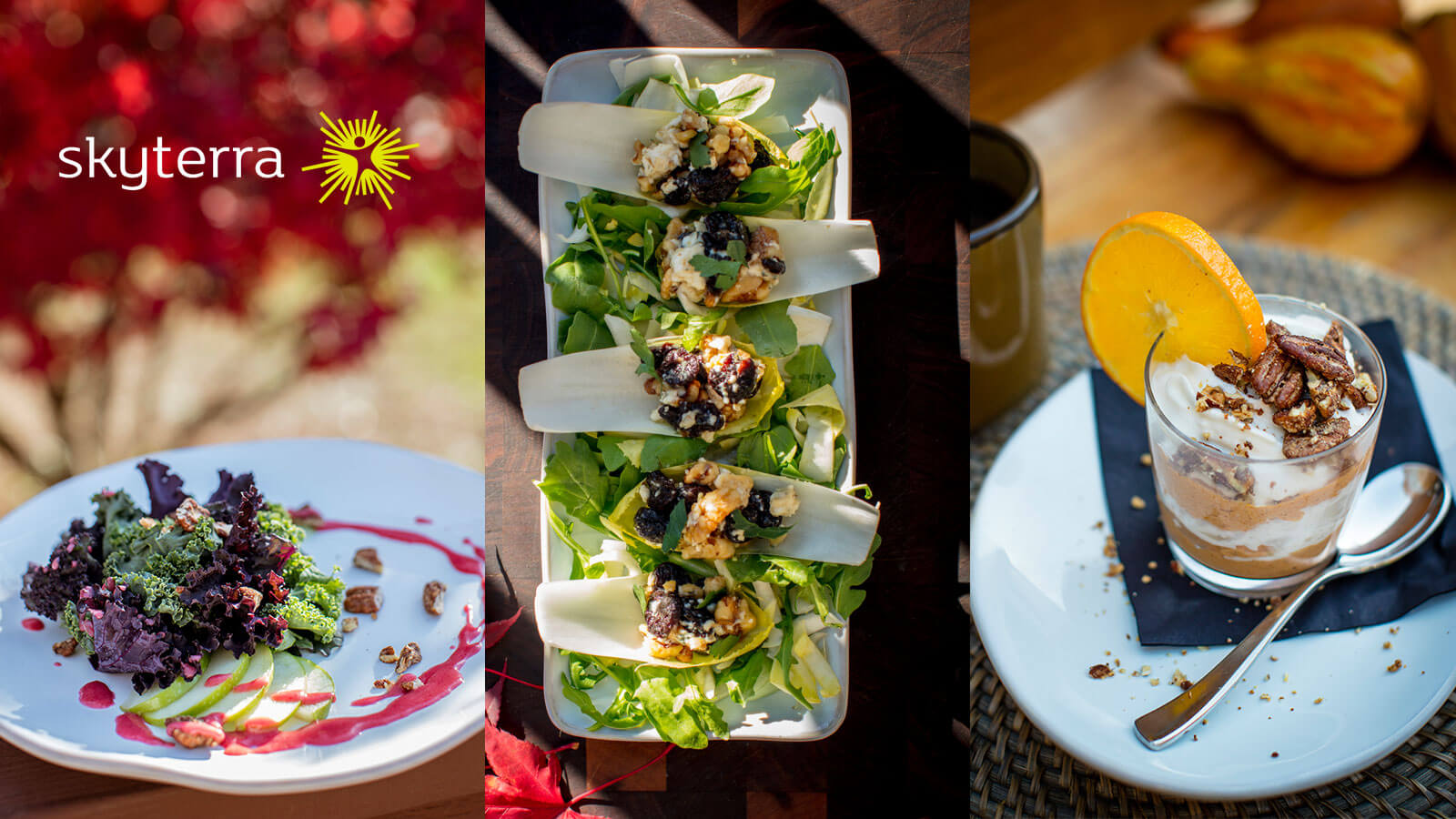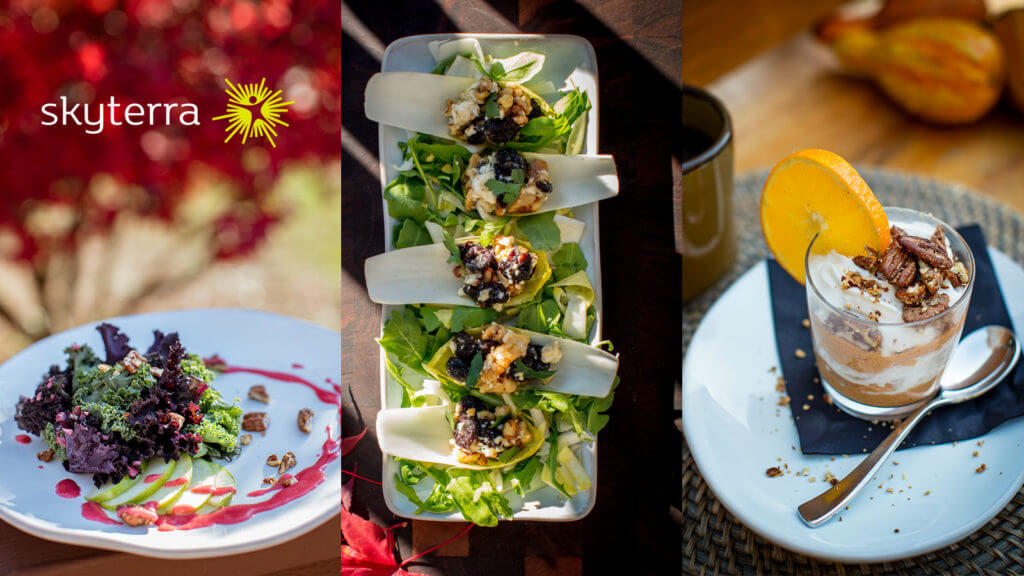 We are so incredibly grateful for the full program of festivities and feasting in store for us this Thanksgiving week! For all of our friends and guests who can't be with us, here are some recipes directly from our culinary team. They'll be featured in our holiday spread, and they'll make delicious additions to your table as well.
Like what you see? We still have some availability for Christmas and New Year's. Gift yourself transformative travel and join us at the Skyterra table for a week of spirited wellness programming that you won't soon forget.
---
Appetizer: Smoked Bleu Cheese & Cherry-Stuffed Endive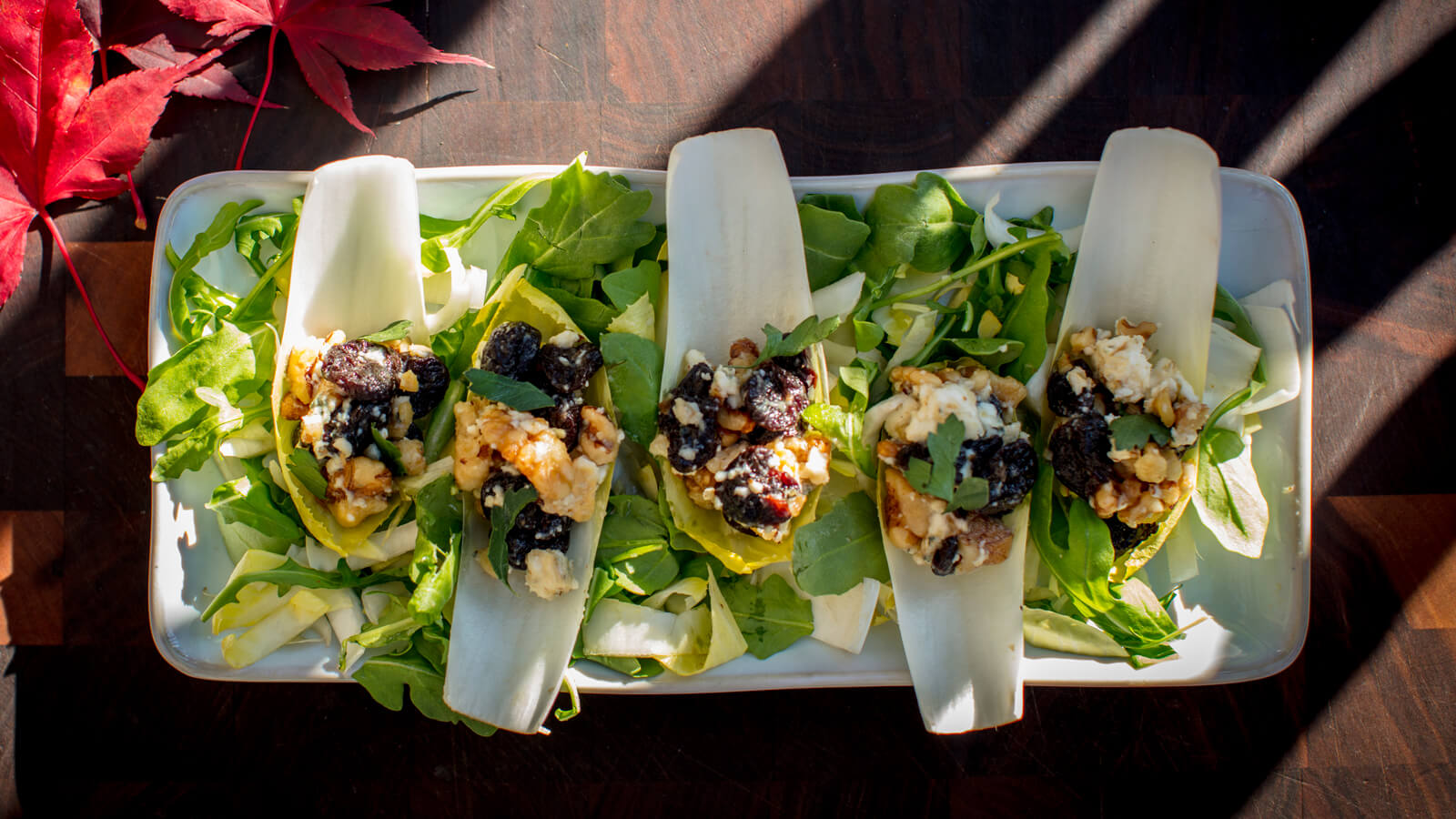 This seasonal finger food makes a bright and lovely appetizer for Thanksgiving or any holiday potluck. Skip ordinary cheese and crackers and use crisp, leafy endives for a plant-based pre-meal platter instead.
Smoked bleu cheese adds gentle complexity to the natural sweetness of dried cherries, but plain high-quality bleu cheese works well too.
Ingredients
Makes Eight Servings
2 endives
1/4 lb smoked bleu cheese
1 cup no-sugar-added dried cherries
1/2 cup walnuts, toasted
1 Tbsp. extra virgin olive oil
Salt & pepper to taste
Instructions
Remove four large outer leaves from the endives. Reserve the rest for garnish.
In a small bowl, mix the bleu cheese, cherries, walnuts, salt, and pepper.
Scoop goat cheese mixture into endive leaves. Drizzle with olive oil and serve on a bed of shredded endives.
---
Side: Kale Salad with Apples, Candied Pecans, and Cranberry Vinaigrette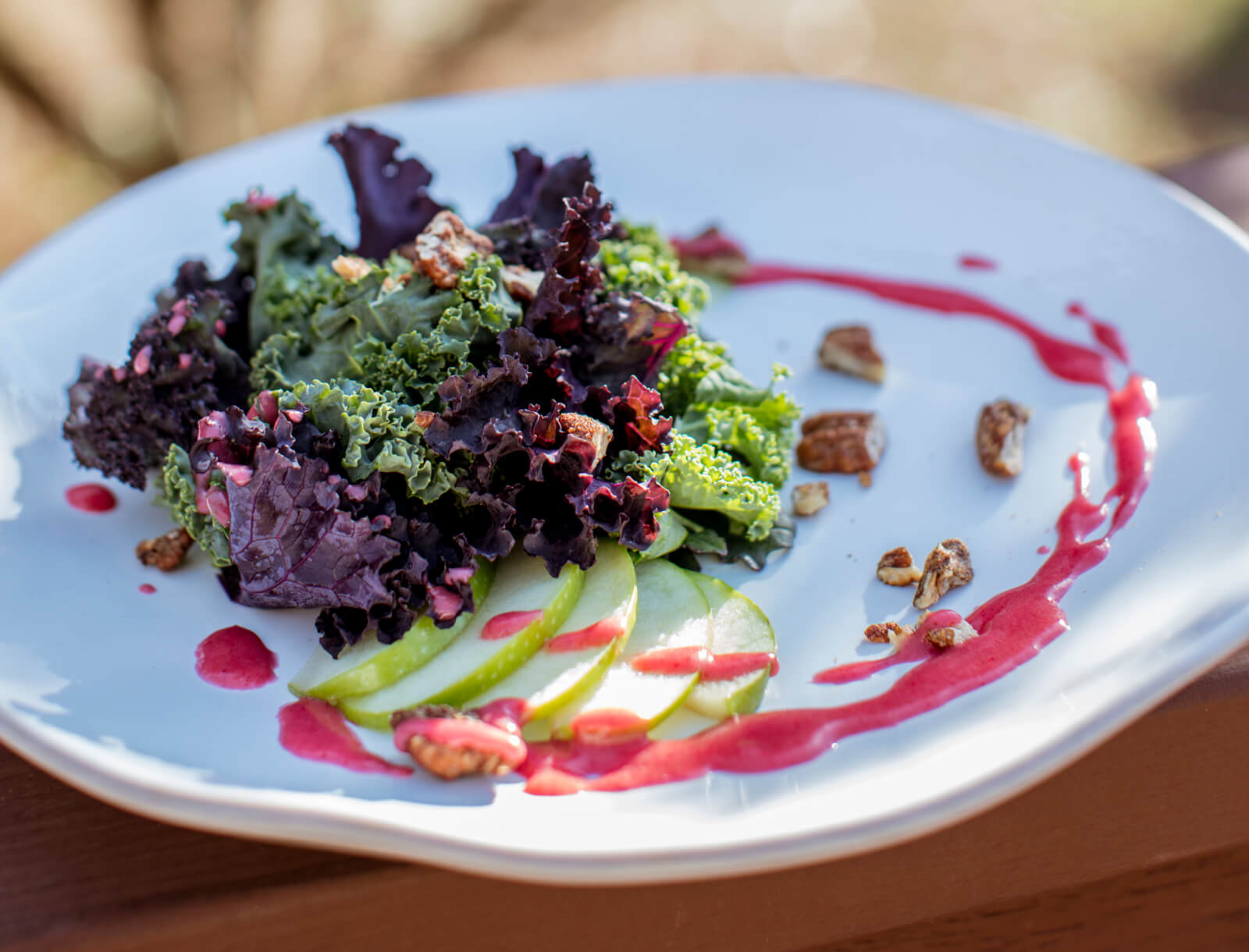 This hearty salad captures the classic taste of the holiday with fresh, whole ingredients. You'll especially enjoy the dressing, which provides the tang and crispness of cranberry sauce without any refined sugars.
Ingredients
Makes Eight Side Servings
2 bunches kale, shredded, stems removed
2-3 apples, thinly sliced (tart apples like Granny Smiths do well here)
2 tsp. salt
Drizzle of extra-virgin olive oil
Cranberry Vinaigrette Dressing

1/4 cup fresh cranberries
Zest and juice of one orange
1 tsp. honey (or more to taste)
1/3 cup extra-virgin olive oil
1/3 cup grapeseed oil

Candied Pecans

1 cup pecans
1 egg white
1-1/2 Tbsp. pure maple syrup
1/2 tsp. ground ginger
Instructions
Start by making the candied pecans: whisk egg white in a small bowl until frothy. Add pecans, maple syrup, and ginger and stir, making sure nuts are lightly coated with the egg mixture.
Spread the nuts out in a single layer on a cookie sheet and bake at 350 degrees for about 15 minutes, stirring once about halfway through. You want the nuts to be crisp and aromatic, but be careful not to let them burn. (If you're also making the pumpkin trifle below, reserve half the nuts for dessert. If not, store the remaining half of the nuts in a tightly-sealed jar, where they'll stay fresh for up to a week.)
Make the dressing: mix oils and set aside. Place all of the other ingredients in a powerful blender or food processor; blend to combine. While mixing, add the oils in a slow, steady stream until an emulsion is formed. (Be careful not to allow the blender to heat up too much, as this will break your oil emulsion.)
Vigorously rub or mix the kale with salt and drizzles of olive oil; place in large bowl. Top with sliced apples, dressing, and half of the candied pecans.
---
Dessert: Pumpkin Trifle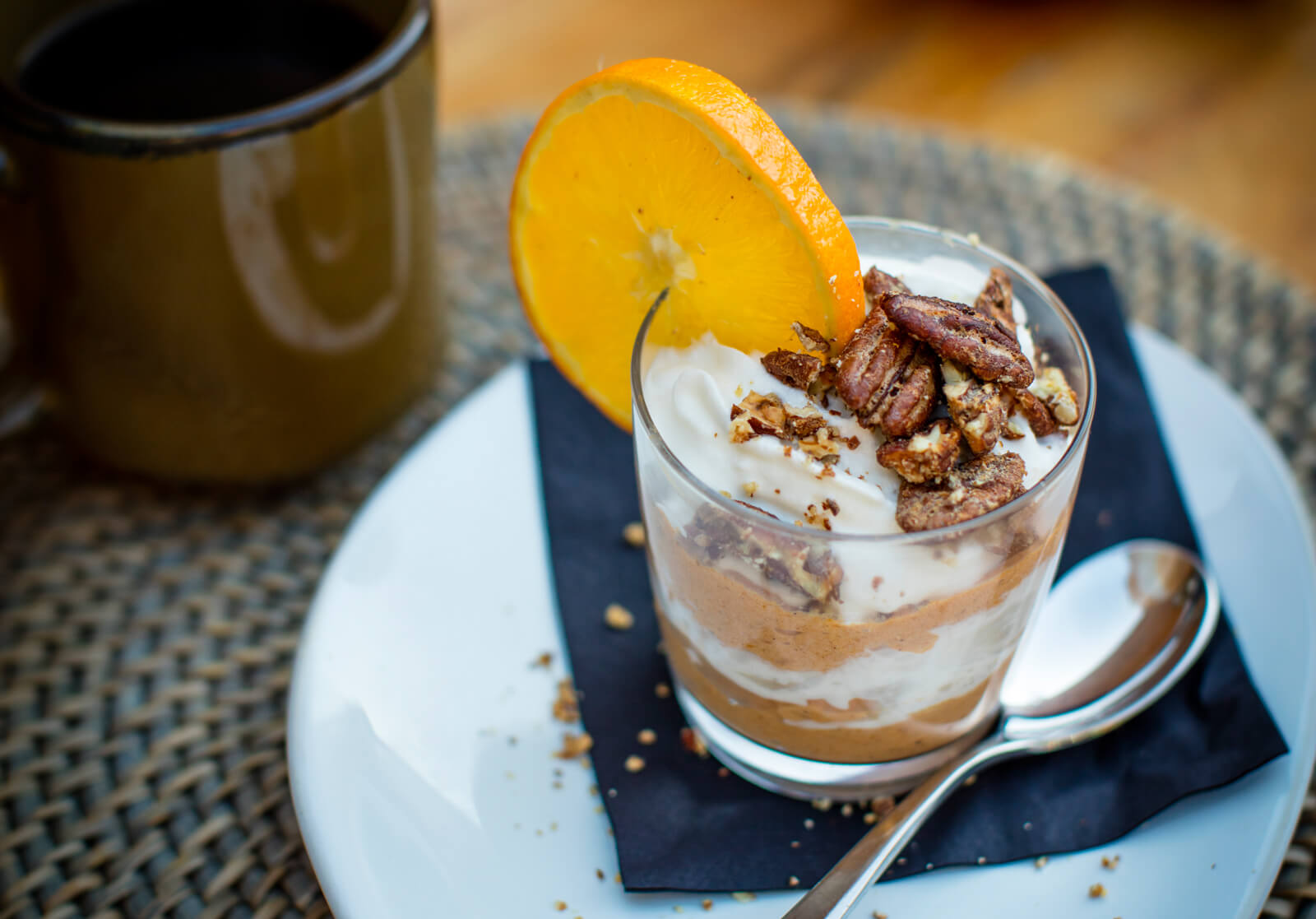 A light and delicious dessert with that well-loved pumpkin pie flavor. Spiced pumpkin puree tastes divine layered with coconut whipped cream and topped with candied pecans.
Plan on preparing the pumpkin layer a day in advance and refrigerating it overnight, layering with fresh coconut cream and topping with nuts shortly before serving.
Ingredients
Makes Eight Servings
2 cans of full-fat coconut cream OR 4 cans of full-fat coconut milk, chilled 
400 grams (about 1 cup) pumpkin puree, fresh or canned
1/2 packet of pure, unflavored gelatin (1/2 oz)
3 Tbsp. maple syrup
1 tsp. vanilla extract
1/4 tsp. cinnamon
1/8 tsp. ground ginger
pinch nutmeg
1/2 cup of candied pecans (see recipe above)
Instructions
Bloom the gelatin according to the package directions. In a heavy-bottomed saucepan, add the pumpkin puree, 1/2 Tbsp. of the maple syrup, half of the vanilla, and all of the spices. Heat over medium, stirring constantly to avoid burning. When the mixture is warm (around 180-200 degrees) add the bloomed gelatin and whisk to combine. Refrigerate overnight.
Place a metal bowl and whisk in the freezer for a few minutes to chill. Carefully open the coconut cream or milk cans and discard any watery liquid. Place the remaining coconut fat/solids into your chilled bowl.
Add 1 Tbsp. of the maple syrup and 1/2 tsp. of vanilla to the coconut cream. Whip until stiff peaks form.
Gently fold about 1 cup of the coconut cream into the pumpkin mixture.
Layer the pumpkin mixture and the rest of the coconut cream into a small serving dish or eight demitasse cups. Top with candied pecans.
---
If you make any of these recipes, be sure to snap a photo and tag us on Facebook or Instagram! We love to see your creations and hear your feedback.
On behalf of all of us here at Skyterra, we wish you a very Happy Thanksgiving! We are grateful for all of you: our friends, guests, and readers. No matter where you find yourself this year, be sure to take a moment to breathe and be grateful for everything that is good in your life.