LoseSmart: 'Game-Changing' Nutrition Education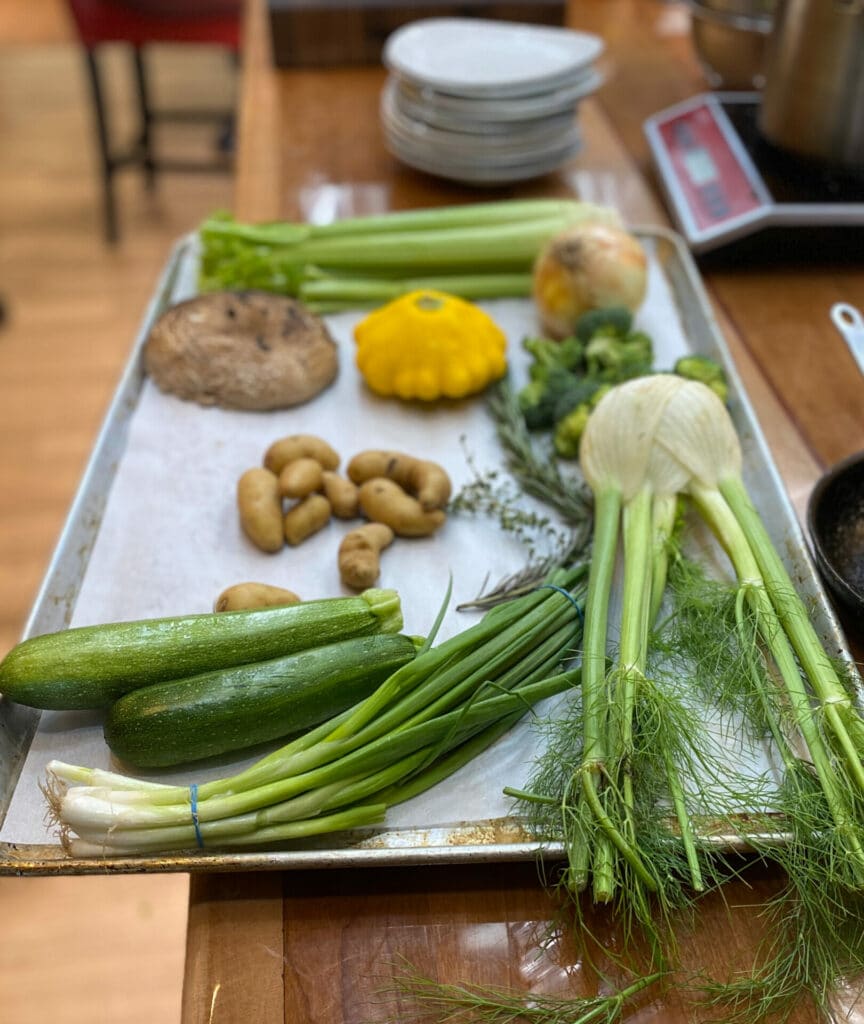 LoseSmart guests arrive at Skyterra with varying past nutrition education. Some guests are anxious about eating and others have practiced destructive dieting behaviors for decades.
A recent LoseSmart guest shared that she has changed her relationship with food and no longer experiences shame when having a meal out.
Another recent LoseSmart guest said that one of his biggest takeaways from the program was related to mindful eating. He said the experience with Skyterra's Registered Dietitian was an "absolute game changer." 
At Skyterra, LoseSmart guests learn how to plan for meals that meet different nutritional needs and schedules, how to be confident in the kitchen, and how to find the time and motivation to cook delicious foods that will actually make them feel better. LoseSmart guests, who attend the four-week program for sustainable weight loss, learn simple meal ideas and receive nutrition education surrounding weight management and stress or emotional eating.
LoseSmart guests are encouraged to reject the irrational rules of dieting and explore the intuitive eating process by integrating more mindfulness. Intuitive eating represents rejecting diet mentality, finding satisfaction from food, dissociating feelings from food, honoring hunger, exploring fullness and more.
The nutritional component of each LoseSmart guest's stay is overseen by Skyterra's Registered Dietitian. The culinary experience at Skyterra provides guests with delicious, healthy and nutrient-dense meals. Culinary experts and dietitians work together to stay in tune with LoseSmart guest needs, ensuring guests are enjoying their meals and that they're feeling energized and satisfied.
Skyterra's chef-prepared cuisine is described as "outstanding - fresh, healthy and plentiful." Food is balanced to ensure satiety, energy for fitness and overall well-being. LoseSmart guests leave Skyterra wanting to eat healthy food because it's delicious and because it makes them feel good.
Skyterra offers a wide array of expert-led educational workshops each week. In addition, LoseSmart guests receive the following:
Weekly group culinary demonstration led by culinary experts

Weekly nutrition group education session with Skyterra's Registered Dietitian

Customized nutrition plan for home

Option to select a nutrition consultation as their weekly private individual session.
Private Group Culinary Demonstrations Exclusively for LoseSmart Guests
Cooking and eating shouldn't feel stressful, and understanding what to eat shouldn't be confusing. Every week, LoseSmart guests gather in Skyterra's state-of-the-art Teaching Kitchen for group culinary demonstrations led by culinary experts and dietitians. Throughout a four-week stay, the focus of each demonstration rotates between topics including Grain Cooking, Protein Cooking, Vegetable Cooking and Knife Techniques. LoseSmart guests receive thorough notes and instructions during each demonstration so that they can recreate the demonstrations at home.
Weekly Nutrition Group Education Sessions Led by Skyterra's Registered Dietitian
LoseSmart guests not only learn how to cook, they learn how to eat. Every week, LoseSmart guests attend an educational nutrition group led by Skyterra's Registered Dietitian. The focus of each nutrition group rotates between relevant topics including Meal Planning, Diet Culture, Nutrition Busters and Five Meal Mistakes. Nutrition group sessions are interactive and guests are encouraged to share and ask questions. 
Building Success for LoseSmart Guests with a Customized Nutrition Plan for Home
Near the end of their stay, each LoseSmart guest meets individually with Skyterra's Registered Dietitian to talk about their personalized nutrition plan for home. Nutrition plans are developed based on the individual goals and needs of the guest. The plan includes the following meal planning resources:
Weekly meal plan template with ideas for snacks

Nutrition awareness tracking journal

Guided meal planning worksheets with examples.
After a LoseSmart stay, guests have access to signature recipes and educational videos to continue their nutrition transformation. LoseSmart guests also have the opportunity to receive additional at-home live support through Skyterra's Virtual Nutrition Group. The virtual group provides weekly nutrition support that prioritizes improved health and eating habits. Skyterra's Registered Dietitian and group participants discuss different topics of interest, and set and achieve weekly intentions and goals.
LoseSmart guests leave Skyterra with all the tools they need to feel better and more confident about how food can be delicious and can optimize their health. They learn how to improve blood pressure and blood sugar regulation, how to feel better eating nutrient-dense foods, and how to set up mealtimes and patterns for success. LoseSmart guests are empowered knowing not only what to do, but how to make their nutrition work best for them so they feel stronger and more confident in their bodies.
For more information about LoseSmart or to book your LoseSmart stay, click here.