LoseSmart: Guests Receive Expert Coaching in Private Sessions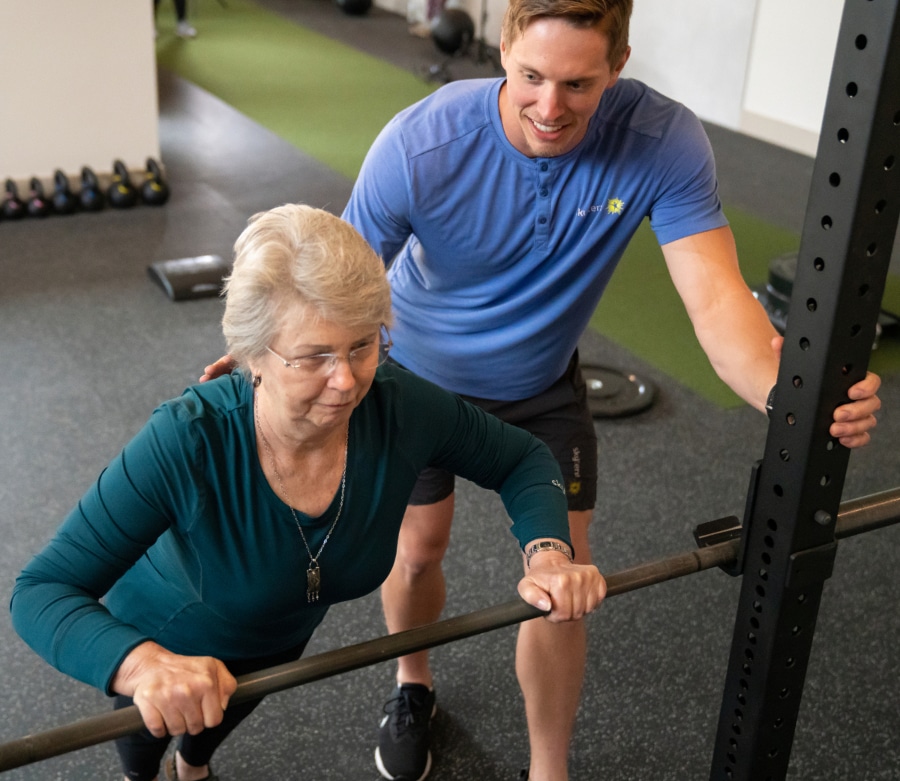 Every LoseSmart guest is on a unique journey deserving personalized attention and care. Meeting those needs is the top priority of Skyterra's expert staff.
LoseSmart, a four-week program for sustainable weight loss where people of all shapes and sizes embrace new ways to be fit and healthy, is limited to a small group of participants at any given time.
That small size affords guests the following personalized services and guidance every week:
An individual coaching session
An individual private session of choice
Multiple small group sessions.
Weekly Private Coaching Sessions Maximize LoseSmart Guests' Success
LoseSmart guests meet individually with Skyterra's Fitness Director each week for a private coaching session. The session is personalized based on each guest's needs and serves as accountability and a general check-in to monitor progress. As guests progress through the program, coaching sessions typically cover body composition and goals, planning for the week ahead (suggested classes to take and plans for free time), and scheduling any private fitness, nutrition, therapy or spa sessions.
When guests want to improve upon specific benchmarks, Skyterra's Fitness Director provides guidance for improvement, teaches guests how to better complete movements, and can create a personalized mobility routine to boost progress. Mobility routines and strength routines are common additions that LoseSmart guests complete to improve upon benchmark workouts.
Near the end of their stay, each LoseSmart guest meets individually with Skyterra's Fitness Director to create their personalized fitness plan for home. Fitness plans are developed based on the individual goals and needs of the guest. The plan is either based on a home setting or a gym setting and includes multiple cardio interval-style workouts, multiple strength-based workouts, and mobility routines to help with flexibility and range of motion.
Weekly Private Session of Choice Provides One-on-One Guidance
LoseSmart guests choose one private session per week where they are able to ask questions, receive expert guidance, and better prepare themselves for success. Private sessions are tailored to the needs and interests of each guest. Private session options include fitness, nutrition and therapy.
During a fitness private session, LoseSmart guests meet individually with an experienced fitness instructor to improve their form, learn new techniques or modifications, or work on specific areas of need.
Private nutrition sessions with Skyterra's Registered Dietitian offer guests support in many areas including disordered eating, food allergies, autoimmune disorders, blood sugar management and more. LoseSmart guests also work with Skyterra's Registered Dietitian to develop a personalized nutrition plan for home. Nutrition plans include a weekly meal plan template with ideas for snacks, a nutrition awareness tracking journal, and guided meal planning worksheets with examples. If needed, Skyterra's Registered Dietitian can connect guests with professionals in their local area.
Private therapy sessions offer guests relief and support in many areas including depression, anxiety, trauma, grief, or other types of addictive disorders/behaviors. Skyterra's therapist crafts a treatment plan to address any specific needs and connects LoseSmart guests with professionals in their local area.
Weekly Small Group Sessions Feature Culinary Demonstrations and Nutrition Education
Every week, LoseSmart guests gather in Skyterra's state-of-the-art Teaching Kitchen for an exclusive culinary demonstration led by a chef and Registered Dietitian. Throughout a four-week stay, the focus of each demonstration rotates between topics including Grain Cooking, Protein Cooking, Vegetable Cooking and Knife Techniques. LoseSmart guests receive thorough notes and instructions during each demonstration so that they can recreate the demonstrations at home.
LoseSmart guests not only learn how to cook, they learn how to eat. Every week, LoseSmart guests attend a nutrition education group led by Skyterra's Registered Dietitian. The focus of each nutrition group rotates between relevant topics including Meal Planning, Diet Culture, Nutrition Busters and Five Meal Mistakes. Nutrition small group sessions are interactive and guests are encouraged to share and ask questions.
For more information about LoseSmart or to book your LoseSmart stay, click here.