Your Skyterra Pantry: Swiss Chard Nutrition & Recipes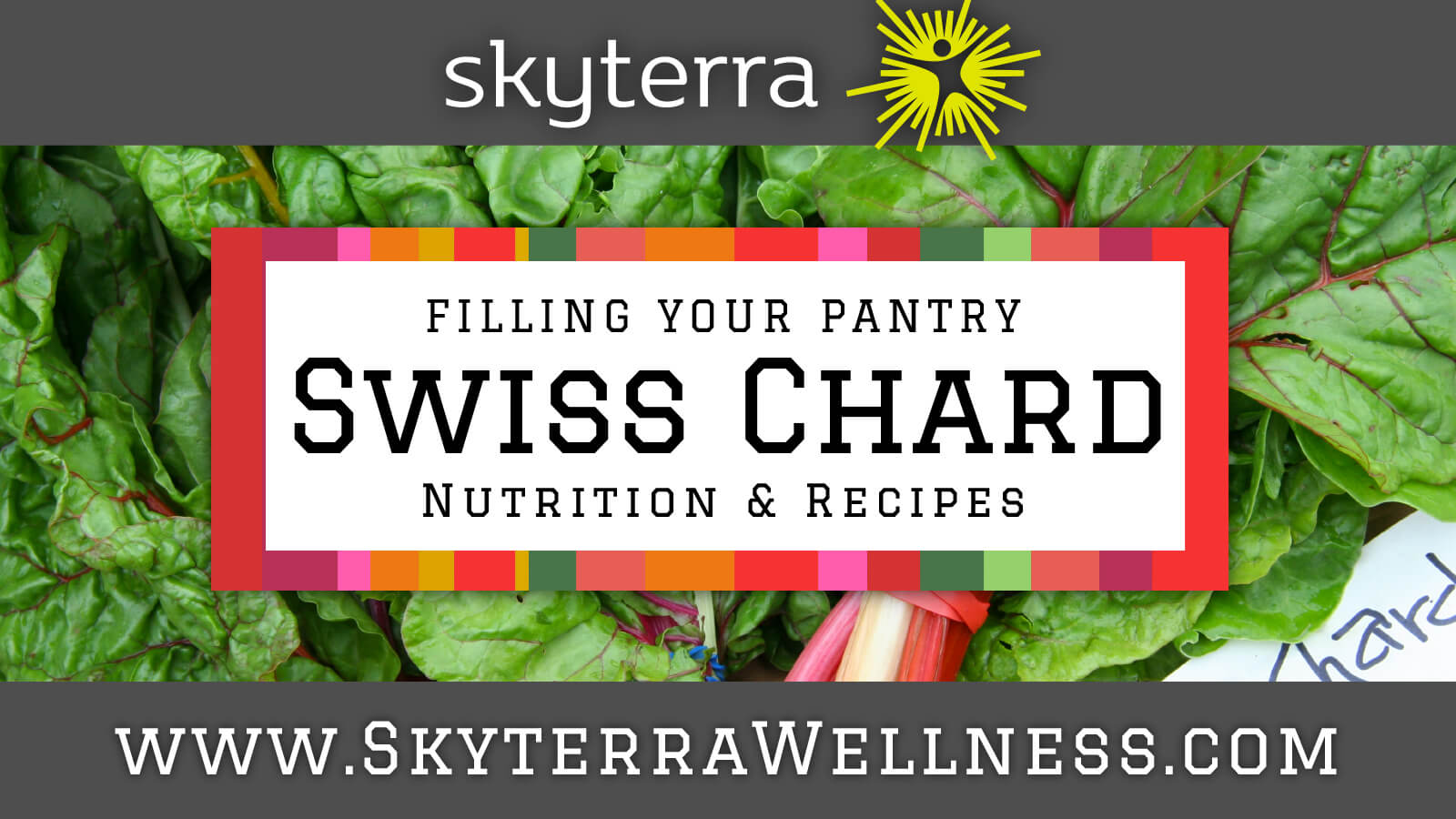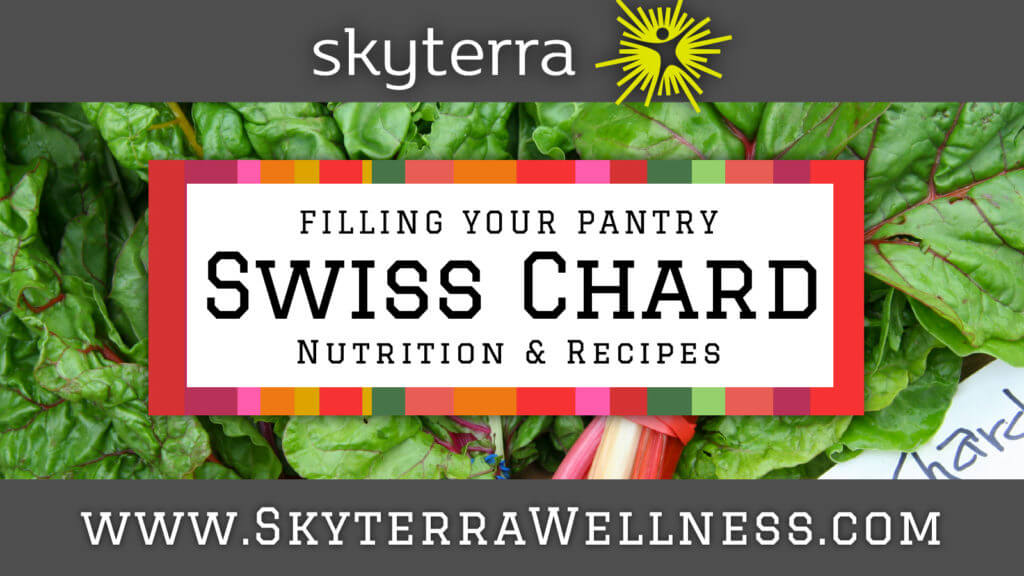 Swiss chard is a nutritional powerhouse that's easy to get your hands on. These richly-hued greens are available year-round and are very versatile, making them one of our go-to greens here at Skyterra. Our culinary team brings you this infographic highlighting the health benefits of Swiss chard and easy ways to use it.

What is Swiss Chard?
Swiss chard (often referred to as simply chard) has shiny deep green leaves with colorful stalks. You may find bunches with all-white stalks, or with any combination of yellow, orange, pink, and red stalks (often known as rainbow chard). The rainbow mix is our favorite because the bright color adds some punch to the plate, and colorful veggies pack in additional antioxidants. Still, both varieties taste the same, and their overall nutritional profiles are very similar.
Swiss Chard Nutrition
As one might expect from any leafy green, swiss chard is very nutritionally dense, meaning that bite-for-bite, it packs in more nourishment than most other foods. That's why it fits so well into the Skyterra pantry: "We emphasize the importance of micronutrients to support the body, truly focusing on the quality of what you put into your mouth," Eleni Ottalagana, RD explains.
Chard is low in calories, but more importantly, it's chock full of micronutrients. Chard is an excellent source of potassium, magnesium, calcium, vitamins A and C, and iron, to name a few. These nutrients play a pivotal role in nerve function, heart health, energy metabolism, bone strength, and fighting inflammation.
Eleni also points out that Swiss chard is also a terrific source of antioxidants. These beneficial compounds are wonderful fighters of disease states and inflammation. The specific carotenoids (beta-carotene, lutein, and zeaxanthin) and flavonoids (quercetin) found in chard are also important for maintaining eye health and reducing allergic reactions. It's abundantly clear that adding Swiss chard to your diet does favors for your health and immunity.
Swiss Chard Recipes
Chard is as versatile and tasty as it is good for you. Sautéed, it makes a great side for morning eggs, or pickle the stems for a tangy refrigerated treat to add to any lunch or dinner. In addition to being one of our signature pantry items, it is one of the ingredients in our Skyterra Signature Smoothie, a nutrition-packed beverage for those on the go!
Once you've mastered the basic recipes on the infographic, Eleni suggests one additional tantalizing breakfast (or breakfast-for-dinner) recipe:
---
Moroccan Spiced Breakfast Hash
6 eggs
2 TB coconut oil
1 medium sweet potato, diced
1 small bunch Swiss chard, stems removed
3 cloves garlic, minced
1 tsp ground turmeric
⅛ tsp cinnamon
1 tsp apple cider vinegar
½ cup raisins
Sea salt and pepper
Steps:
1. Add coconut oil, then sweet potatoes and cook and stir for five minutes.
3. Add the garlic, turmeric, sea salt, and cinnamon. Stir and cook for a few minutes, until the sweet potatoes are soft.
4. Add the chard leaves, apple cider vinegar, eggs and raisins to the pan. Continue cooking until chard has wilted and eggs are cooked through to a scramble. Season with sea salt and pepper if needed.
---
If Swiss chard isn't part of your normal repertoire, grab a bunch and give it a try. Its nutritional profile is all-around good-for-you, and thanks to its versatility, you're bound to find a recipe that suits your cooking style and palate.
P.S. – if you have a green thumb, or you're just aspiring to one, consider growing Swiss chard to your garden. Greens are relatively low maintenance to grow, and it's easier to have fresh greens on hand if you only need to step outside your door to harvest them. Because of its superior nutrition and hearty nature, Swiss chard was one of the first crops to be grown in outer space!