Announcing the Skyterra Yoga Yurt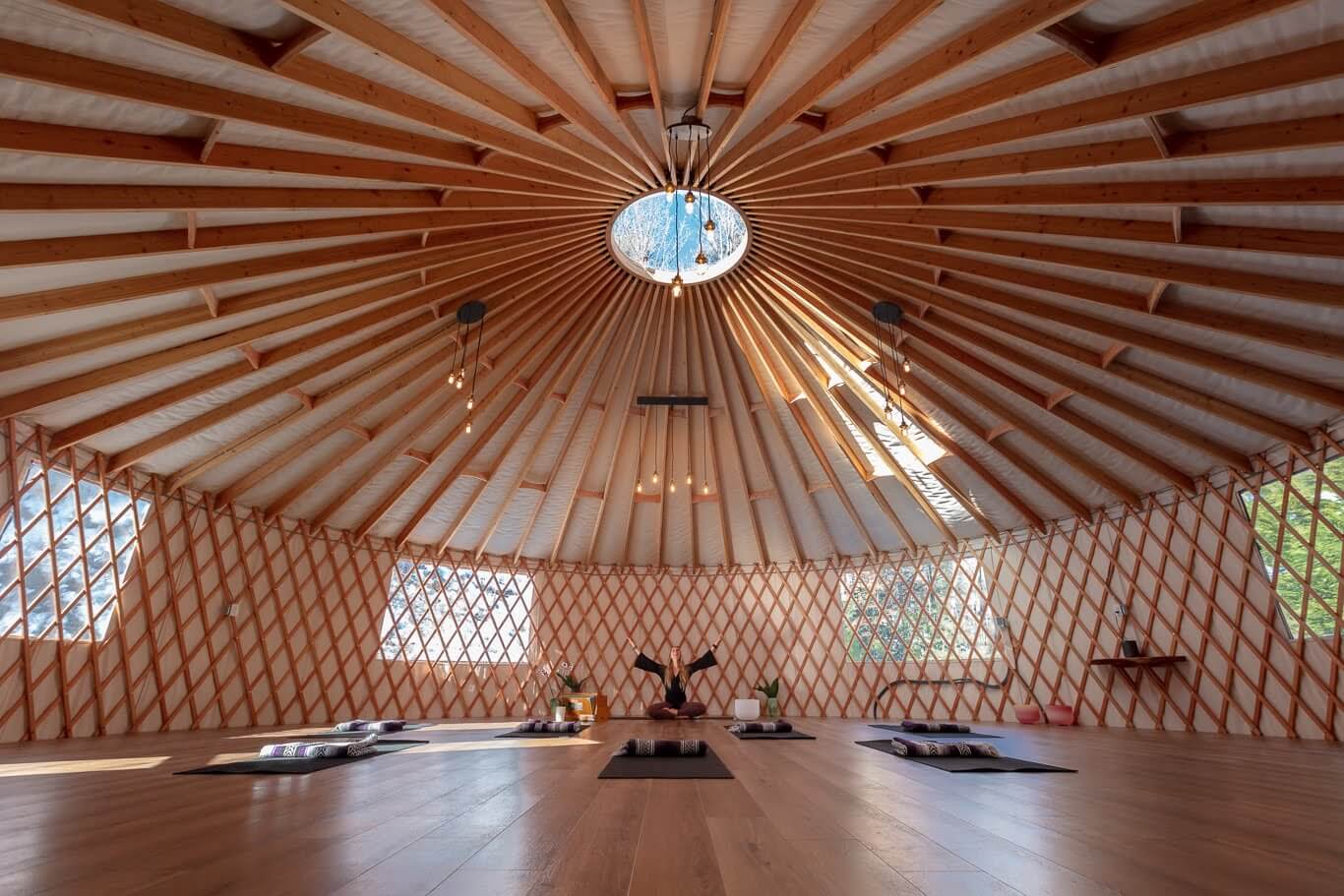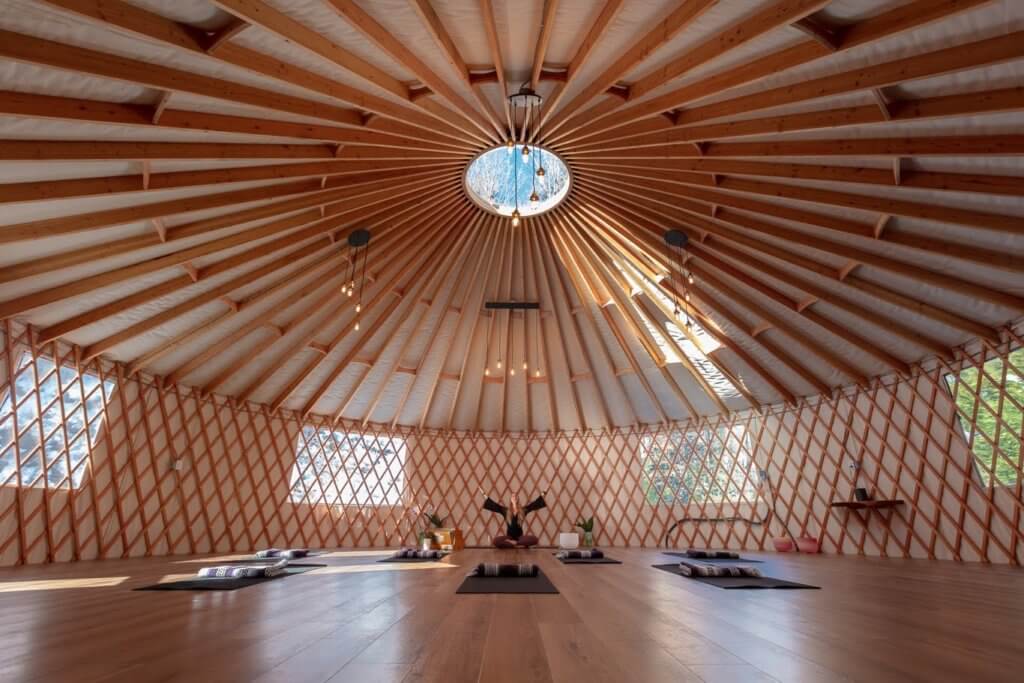 We're pleased to announce the opening of the newest facility at Skyterra Wellness Retreat: the Yoga Yurt! This nature-inspired space is entirely dedicated to yoga, breathwork, meditation, and other practices to restore and renew the mind and body.
The addition of the Yoga Yurt represents the new growth at Skyterra, and it also signifies the importance of holding space for mindful movement, healing, self-care, and personal growth.
What Is A Yurt, Anyway?
A yurt is a circular tent structure. In Central Asia, yurts have been used as collapsible and portable dwellings for thousands of years. These traditional yurts have wood frames with covers from canvas and felt. The details of framework and construction vary by taste and location, but these dwellings are frequently decorated with symbols and/or patterns thought to bring good luck, happiness, or protection.
Unlike traditional yurts, our modern yurt is a permanent structure built from high-tech materials. Among other measures to keep it cozy, it has a wood floor with radiant heat. Taking a class in the yoga yurt warms the heart, soul, and yes, even cold toes! Despite these contemporary comforts, our yurt still takes a strong cue from tradition.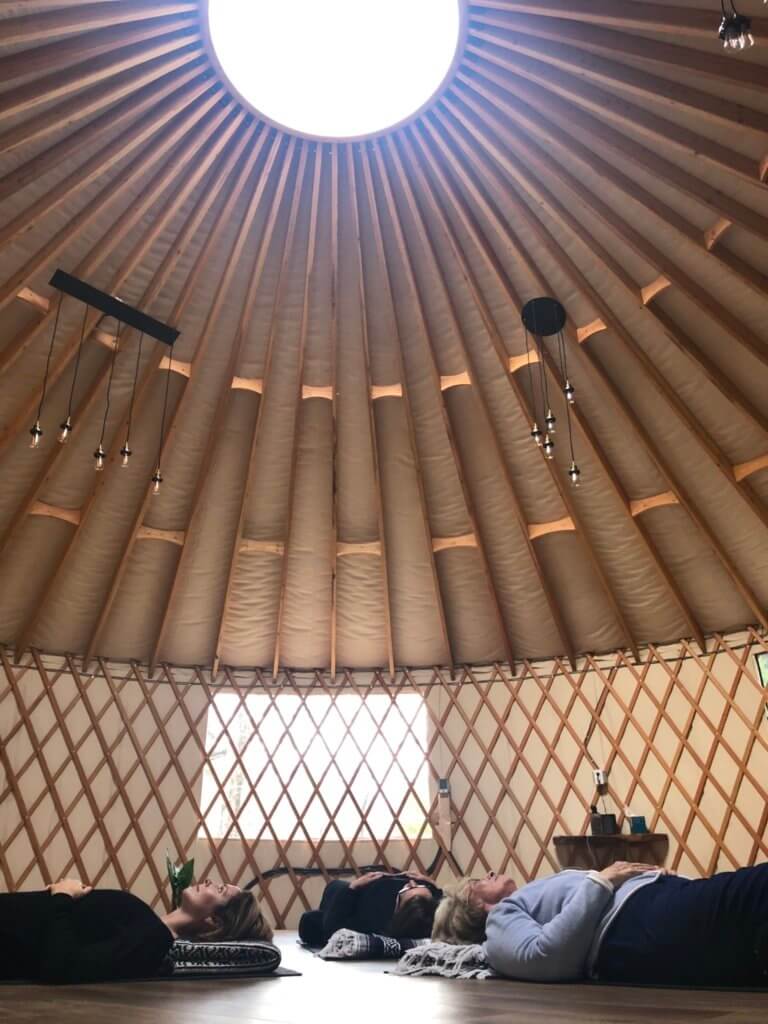 Skyterra's Yoga Yurt
Our yoga yurt has a traditional-looking appearance – it's designed to bring elements of nature indoors. The windows can be opened during warmer months, and the high ceiling has a round window at its peak, so it's always possible to look toward the sky. It will be used as an "unplugged" space dedicated to modalities like breathwork (pranayama), yoga, and meditation.
Join Us For A Yoga Retreat – And So Much More
You don't need to go to Bali, India, Costa Rica, or any other exotic and distant locale for a transformative travel experience. Simply retreat to the Blue Ridge Mountains of Western North Carolina. We're located an hour away from Asheville, or just a few hour drive from major cities like Charlotte and Atlanta.
Remember, Skyterra Wellness Retreat is open 365 days a year. You can visit anytime for a week (or more!) of professionally guided health, fitness, and stress management. Our award-winning wellness program includes a blend of yoga, fitness, meditation, seasonal outdoor recreation, health education, seasonal chef-prepared meals, and cozy mountain lodging. Whether you're looking for a healthy vacation or you're committing to a new lifestyle, a trip to Skyterra represents a powerful opportunity to reset, to focus on your own health and well-being, and jumpstart a healthy and empowering new way of living.