Weighing the Costs: Destination Vacation vs. Wellness Retreat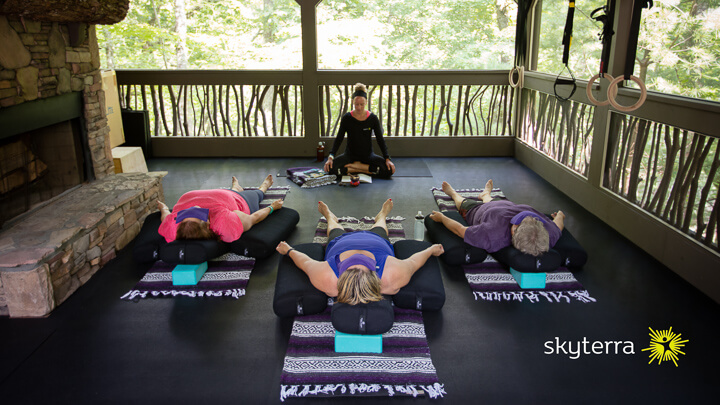 We receive many inquiries about our pricing. The good news? The weekly rates at our wellness retreat include lodging, meals, and our full wellness program. This inclusive package translates into an excellent value with optimal relaxation and rejuvenation.
Once you're here, you will enjoy a number of activities at no additional charge: yoga, strength training, cardio classes, indoor and outdoor recreation, educational lectures, community meals, guided meditations, and more. The only add-ons are optional spa services, additional one-on-one time with our team members, and any pocket money you need for off-campus field trips and excursions.
Expenses: Skyterra Wellness Retreat vs. Vacation in Western North Carolina
For the sake of comparison, let's weigh the costs and experience of a stay at Skyterra against those of a trip to Asheville, the tourism hotspot closest to us. (Fun fact: visitors have been flocking to the Asheville region seeking wellness for hundreds of years. We're carrying on a long tradition!)
If you want a trip that replicates the Skyterra experience as much as possible, here's a potential cost breakdown: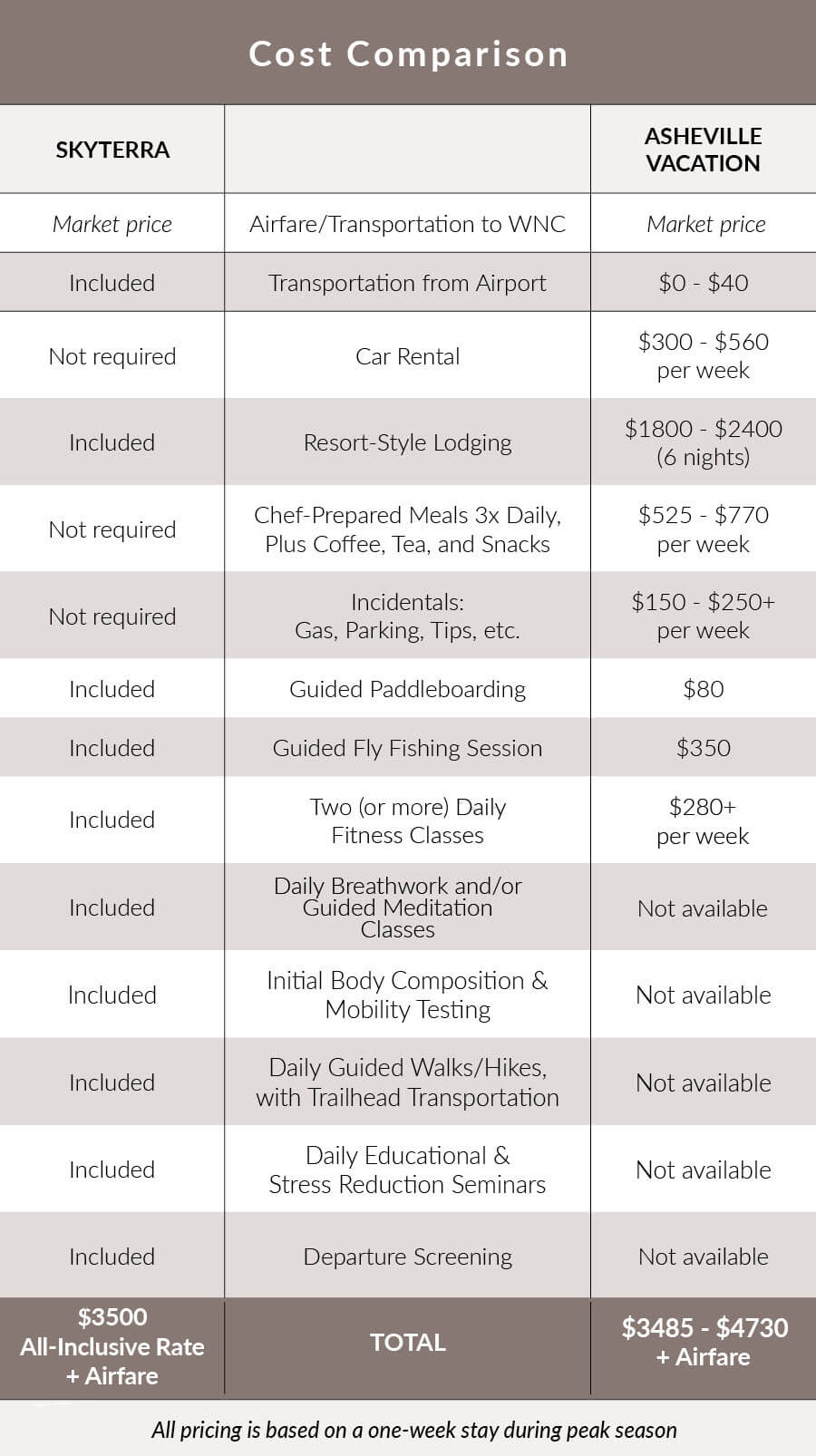 As you can see, our rates bundle premium accommodations and activities that could be much more expensive if purchased independently. We've based these cost estimates on resort-level travel – the same level of accommodation that you'll find at Skyterra. Estimates were derived from Kayak, TripAdvisor, and local Asheville businesses.
If you're a savvy traveler, you might be concerned about fine print or sneaky upcharges. You're right to be concerned – not all retreats (even those billed as all-inclusive) are upfront about pricing. Here at Skyterra, we are fully transparent. Here's a look at optional retreat enhancements that may require additional fees.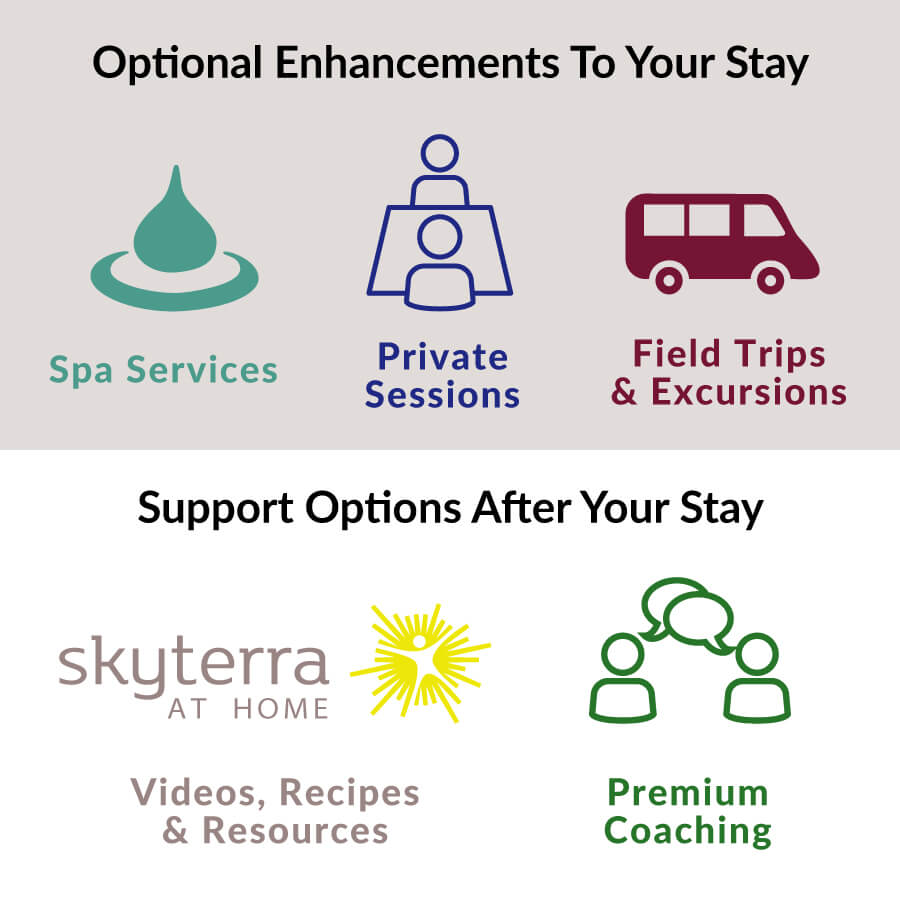 You can opt for spa services and additional one-on-one time with any of our experts for an extra fee, which varies according to the service being offered. You'll also need your own pocket money or entrance fees for off-campus field trips and shopping. (Exception: some of these services are complimentary for guests who are on long-term stays.) Note that many of our visitors are happy with their experience without any of these extras.
For what it's worth, we also offer a guarantee. If Skyterra is not right for you and you decide to leave within 24 hours of your arrival, we will refund your program fee (the amount you paid, minus your non-refundable deposit). Read more about our guarantee policy on our FAQ page.
The Value of a Wellness Retreat
In addition to a competitive travel package, Skyterra offers a combination of perks that standard vacations don't: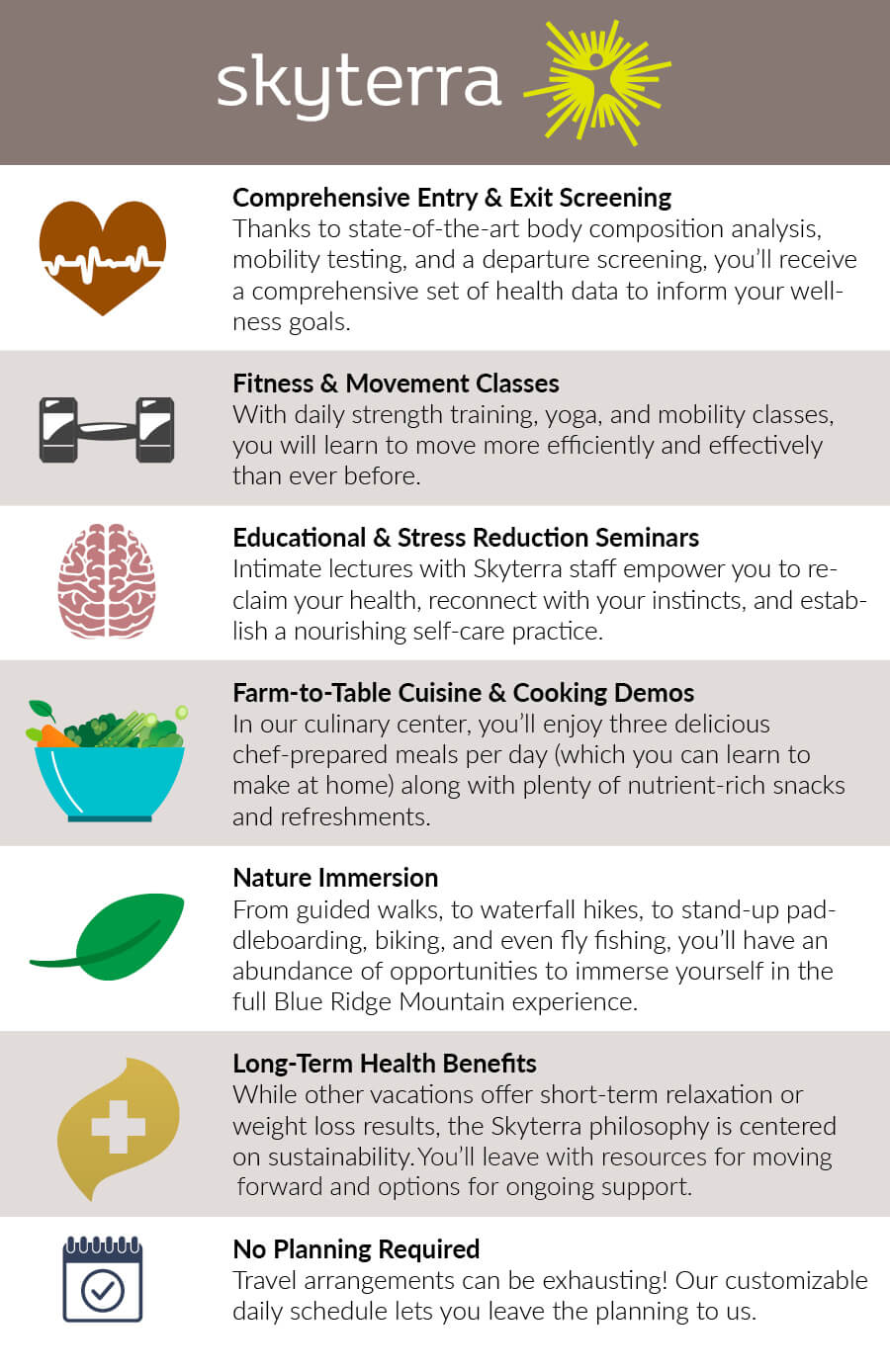 As you can see, we provide a combination of services and classes that can only be found on our campus. Our leading-edge educational program is constantly evolving and carefully curated based on the needs of our guests. Each engaging lecture provides science-backed insight for revamping your lifestyle and empowering your self-care practices.
In addition, services like our intake and exit screenings allow you to start learning things about your body right away! We include a non-invasive body composition scan that gives you an accurate overview of the muscle, fat, and water you're carrying, so you understand your starting point and can map out relevant goals for yourself.
Other Considerations
Priorities shift from traveler to traveler, but many of us are willing to pay a premium for the most relaxing, rejuvenating vacation possible. What's more, many people pursue travel as a means of personal growth. If feeling good and expanding your comfort zone are some of your top travel priorities, a wellness retreat may offer the best value for your dollar. 
A traditional vacation requires more planning, is less competitively priced, and is likely to derail your health and wellness goals. After considering lodging, car rental, meals, and drinks (purchased at tourist-town prices), you're usually spending a significant amount just for the essentials. Add on activities like massages, outdoor recreation, and guided tours, and that laid-back trip gets an ambitious price tag.
Does a weeklong escape justify this type of expense and planning? After all, it's not uncommon to return from a vacation and see you've gained weight or feel totally wiped out from late nights, festive drinking, and the exhaustion of getting around. If you're second guessing this year's destination vacation, know that there is an alternative. A wellness retreat is a healthy vacation that bundles many of those travel-related expenses into one competitive flat rate and eliminates the hassle of planning.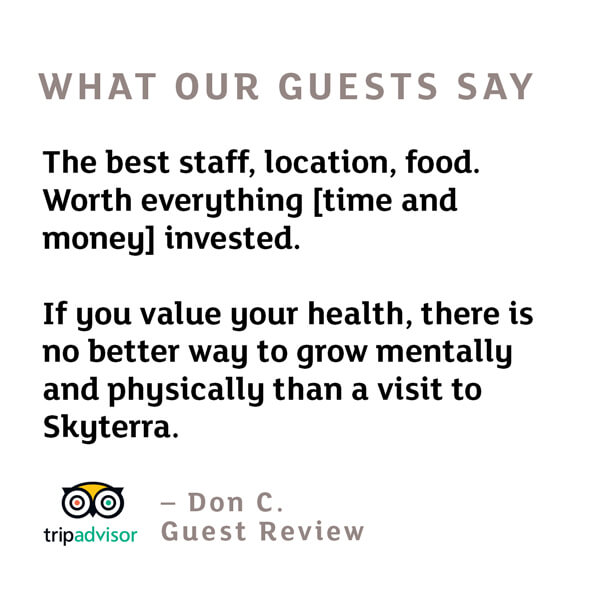 More importantly, our wellness retreat offers long-lasting transformational effects that set you on a long-term path to looking and feeling great. You don't need to take our word for it – check out guest reviews and testimonials for real-life Skyterra stories.
We hope that this cost breakdown helps you make the best decision with your time and money! We understand that your resources may be limited and that it can be difficult to invest in your own self-care. That's why we work hard to make Skyterra one of the best values in wellness travel today. Please do not hesitate to contact us if we can be of assistance in your travel planning.