Nurture Fitness Adherence with Nature


Our society seems to have become ingrained with a habitual commitment to the gym as the choice for fitness workouts.  However, science advocates endless benefits to establishing a regular physical activity regimen involving the outdoors.
When engaging in activity outdoors, we stride differently, adhere for longer durations, blast more calories, boost our "Vitamin H2" (aka. health and happiness vitamin), protect our immune system, increase our mental clarity all the while encouraging a deeper personal connection with nature. We become more mindful, more engaged, and naturally more actively existent. Outdoor activity is accessible, affordable and convenient for anyone, anywhere.  In fact, the varying terrain and changing climates provide incentive or stimulus that you cannot organically achieve indoors.
According to the U.S National Library of Medicine and the National Institute of Health, studies show that individuals who exercise outdoors versus those who exercise indoors score significantly higher on measures of vitality, enthusiasm, pleasure and self-esteem. They subsequently score lower on tension, depression and post activity fatigue.
Therefore, let us acknowledge that even brief exposure to our natural surroundings has multifaceted benefits. Candidly speaking, humans were not designed to continuously live confined within four walls. Connection to the outside world positively affects our physiological, emotional, and physical well-being.
This summer season commit to moving some of your fitness regimen outdoors. Follow these simple guidelines:
Find a park, path, track, or trail.  Find a pleasant location close to your home or work. As you are far more likely to stick to the "active commitment" if the location is convenient.
Commit to a specific time of day. Generally speaking, starting the morning with outdoor activity is a rewarding way to start the day. It also ensures cooler temperatures and limited high sun exposure during the summer season.
Wear proper shoes. Your feet are your foundation. The proper shoes are important. The right "active" shoe will provide support and cushioning if needed. Look for shoes that are lightweight, breathable, have a flexible sole and offer ideal arch support. After you have found the right shoe, keep track of your movement and/or the number or miles you walk/run/hike/etc. You will want to re-introduce new shoes after every 300-600 miles.
Understand proper hydration. Outdoor activity during summer months will require extra hydration. Be sure to drink plenty of water.  Drink a glass of water prior to heading outdoors to ensure you are hydrated for at least the first 30 to 45 minutes of activity.
Find a buddy, join an active group or hire a personal trainer with outdoor enthusiasm.  Group activities and/ or the buddy system can help inspire adherence.  Hiring a personal trainer will aid in personalization, safety, effectiveness, consistency and motivation. Remember, not all trainers train indoors. If they are creative and unique, they will get you outside to get you well and help you evolve into being fitter, happier and healthier.
Plan a fitness/wellness destination vacation. Reboot, relearn, challenge and sharpen-up on those DLA's (daily lifestyle activities). Immerse yourself with like-minded fitness enthusiasts and wellness experts.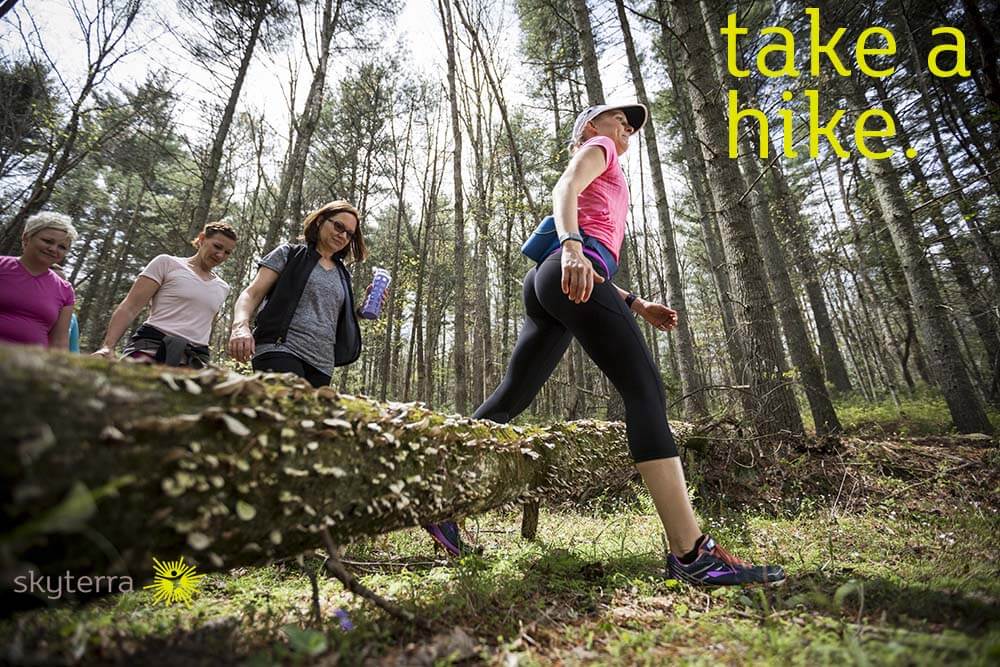 Fitness becomes fun again when you make the commitment to get involved! Our one-on-one training sessions, group fitness classes alongside our endless access to outdoor activities will help re-inspire and re-motivate your active aspirations. Finding activities that fit into your daily lifestyle is our mission. An active and healthy lifestyle evolves from practice.  At SkyTerra Wellness, our team of fitness experts will dynamically help you create a pleasurable and adhere able path to improved fitness and overall well-being.