Seven Years of Skyterra: How a Small Wellness Retreat Became the Best in the Nation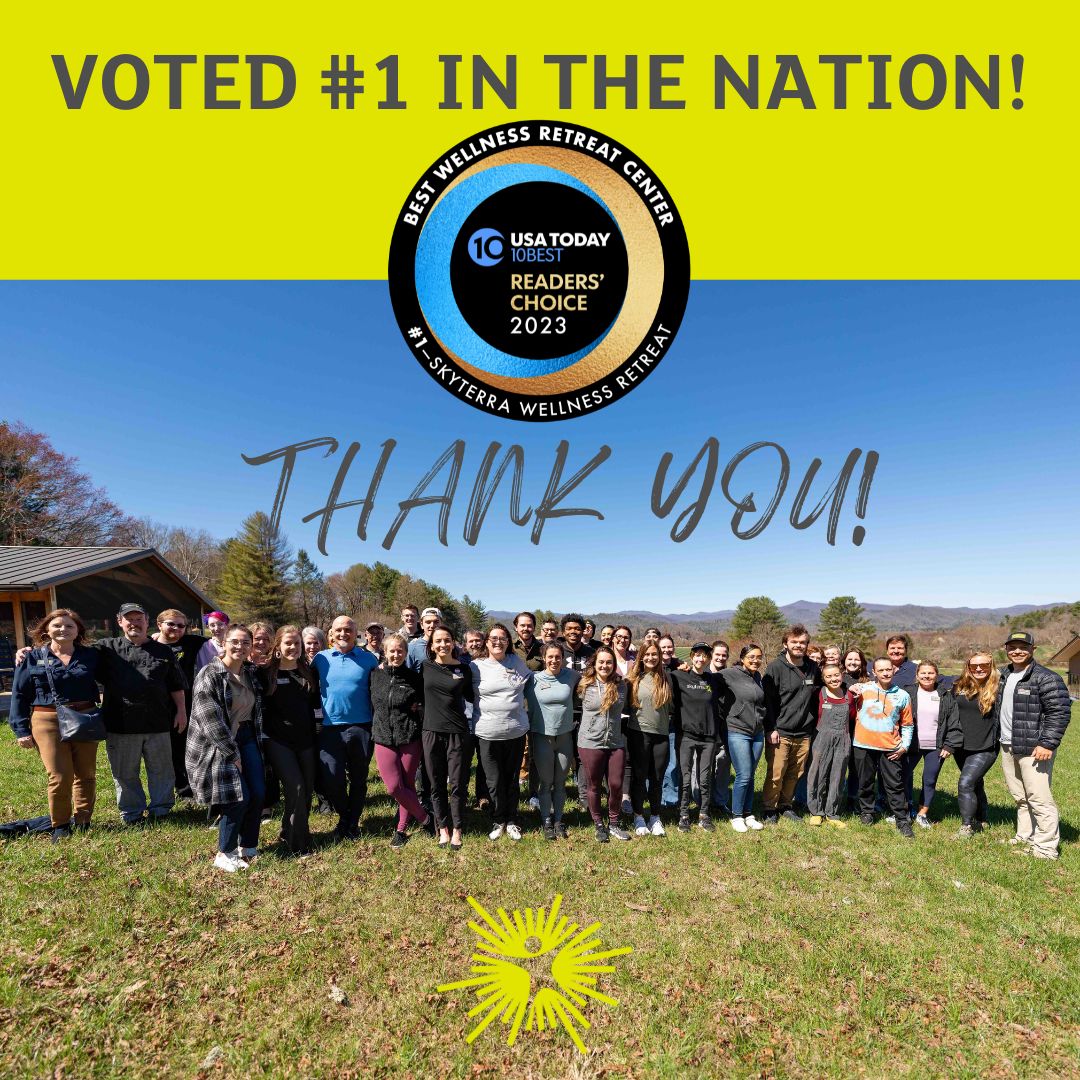 How a Boutique Wellness Retreat Became the Nation's Best
Since its opening in 2016, Skyterra Wellness Retreat has been named among the top three best wellness retreats in the country every single year. In fact, in 2018 and again in 2023, Skyterra was named the best wellness retreat in the nation by USA Today.
How did a small business in the cozy mountain town of Brevard, N.C. become a transformative destination for individuals from all walks of life?
The answer is simple. Skyterra is dedicated to cultivating a world-class, personalized, boutique wellness retreat for each and every guest who visits the campus. Because of that, Skyterra continues to be a top choice for wellness-seeking travelers and impacts the lives of guests year-round.
A Boutique Wellness Experience
This is Skyterra's second location in its seven-year history and every detail was created specifically to cater to the needs of guests. In addition to the beautiful campus, guests love returning again and again to the wooded retreat that meshes with the beauty of Western North Carolina and creates a feeling of exclusivity, intimacy and community.
Unlike other retreats that accommodate hundreds of visitors at a time, Skyterra's 155-acre campus has a maximum capacity of just over 30 guests. The expansive property includes a self-contained spa for guests, nine miles of walking trails across campus that lead to a waterfall and cozy lodging for each guest.
The main building includes fitness spaces, a culinary center with a teaching kitchen, classrooms, indoor and outdoor yoga spaces, community space and a dining room for meals and conversation. Outdoor facilities adjacent to the main building host pickleball and basketball courts, a fenced-in area for pets, an outdoor fitness space outfitted with an astroturf, an outdoor kitchen and dining area and a pavilion. A brand new Natatorium was recently completed and houses a pool, sauna, and whirlpool for guests.
Skyterra: From Idea to Nationally Recognized Wellness Retreat
There was a time when Skyterra Wellness was merely an idea that began in the mind of owner and founder, Sue. After 30 years as a busy executive, Sue's goal for her next chapter was to make a real difference in the lives of others.
Sue was seeking wellness and a shift in her own lifestyle, just like so many of our guests. She attended a retreat and immediately called upon her sister, Teresa, who was working as a nurse in Salt Lake City, Utah at the time. Sue recalls saying, "Drop everything, I found what we are going to do when we retire!"
Sue and Teresa were passionate about helping people improve their lives. They began hosting quarterly retreats to gather with other like-minded men and women to work on creating what would eventually become Skyterra. Sue recruited experts she knew would share her mission and vision, understand the truth behind weight loss and strive to teach functional fitness and sustainable nutrition to guests.
On June 12, 2016, Skyterra opened the doors of a space near Lake Toxaway, N.C. to the first-ever guests to join the Skyterra family. Skyterra continued to grow through the years and attracted many like-minded guests. Those who visited Skyterra enjoyed the beautiful views, fresh mountain air, empowering movement, and nourishing meals among a loving community at spacious tables.
From Lake Toxaway to Pisgah Forest
Within a few years, it was clear that Skyterra was outgrowing its Lake Toxaway location. It was time to find a new home. Sue envisioned a beautiful main building, complete with a teaching kitchen, and began exploring relocation until she discovered the current location at 75 Skyterra Way in Pisgah Forest.
The property was gutted and rebuilt to provide purposeful space for Skyterra guests. The wood from the previous structure was repurposed to create the unique and quaint dining room and teaching kitchen tables where guests now enjoy breathtaking views of the surrounding Blue Ridge Mountains. The Skyterra family has taken pride in the little details from the beginning and that remains evident in the beautiful space guests now enjoy.
On Sunday, Dec. 6, 2020, Skyterra said a fond farewell to guests at the Lake Toxaway location and that afternoon, welcomed new guests at the current LeParc location in Pisgah Forest. Through major moves to a pandemic to heaps of learned experience, Skyterra has worked hard to grow the retreat into something guests love. No matter the circumstances, the Skyterra team always strives to meet guests where they are and walk with them on their wellness journey.
A Stay Centered on You
There is a place for you here, whether you want a vacation or have specific wellness goals. You will receive a comprehensive body composition screening and a one-on-one planning session with an experienced team member when you arrive to help set you up for success while you are at Skyterra.
At the end of your stay, you will create a home plan that is specific to your needs and sustainable for your beautiful life. Skyterra provides you with everything you need to apply what you have learned to your life back home.
Skyterra at Home is an online platform created to help guests take Skyterra with them anywhere they go! This is a one-of-a-kind resource that empowers you to maintain and continue your wellness journey with podcast episodes, recipes, written resources and original videos from our team of experts. Wellness is a lifelong practice that is meant to carry beyond vacation time.
The team at Skyterra believes that you deserve to feel comfortable in your own body. No one should have to feel overweight and overwhelmed. Skyterra offers a four-week weight loss program, LoseSmart, designed to help guests that are seeking weight loss that is significant and sustainable. Guests in this program will learn strategies that work, forget the things that don't and achieve sustainable weight loss.
At Skyterra you will never undereat or overexercise for the sake of quick weight loss. Instead, you will learn strategies and techniques that allow you to lose weight effectively and safely while improving your quality of life and honoring your body and mind.
Skyterra Wellness Retreat invites guests from all walks of life to be intentional about their health and well-being while briefly setting aside life's obligations. The team of experts at Skyterra works with guests to break old cycles and revitalize their lives with a wide array of opportunities that are health-conscious and habit-building. While at Skyterra you have opportunities to participate in yoga, stress management, cooking, health education, fitness, meditation, nutrition, and outdoor recreation activities. Spa services and other enhancements are also available to boost each guest's wellness journey.
We Meet You Where You Are
Skyterra believes that you are the hero of your wellness story and wants to support you from start to finish. The purpose of Skyterra is to help every guest jump-start change, improve their health, and build new habits that nourish their mind, body and soul throughout their life. The mission is to make a difference in guests' lives by demonstrating lifestyle changes that are sustainable and enjoyable. Thousands of guests have trusted Skyterra to help them improve their lives over the last seven years and we are honored to be a part of their journeys.
Skyterra began as a holistic health and wellness retreat and remains committed to maintaining the world-class, boutique qualities that serve guests well as its reputation grows. In addition to the honor of being voted the #1 wellness retreat center in the country, the copious five-star reviews from guests on Google and TripAdvisor show the benefits of the Skyterra approach. Past guests have called their experience at Skyterra life-changing, transformative, and an amazing travel value.
Making a choice to attend a wellness retreat is a big decision and a significant investment. No matter where you are on your wellness journey, Skyterra will meet you where you are and walk with you every step of the way.
Decide to Put Yourself First
Being fed false or misleading information when it comes to improving and maintaining your health and wellness is frustrating. Relying on motivation to accomplish what you believe you "should do" is not sustainable. You deserve to be comfortable in your body and able to do the things you used to enjoy. If you are ready to stop dieting and find healthier coping mechanisms, Skyterra is excited to meet you where you are and help you reclaim your life.
If you are finally ready to put yourself first, the Skyterra team is prepared to help you. From the moment the doors opened for the first two guests, the intent of Skyterra has always been to guide and support guests. You will never be judged and will always be well-nurtured no matter what lifestyle changes you are seeking. You already have everything you need for success inside of you and you will discover it here.
The version of you that is healthy and well is right around the corner. If it is time to put yourself first, click here for more information.